What is Pét-nat Wine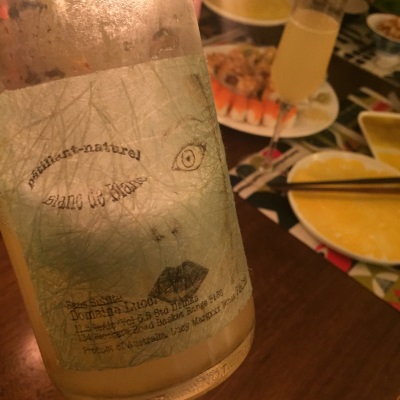 It's cloudy, it's fizzy, it's a strange colour, there's something lurking in the bottom of the bottle. I've read nothing, I know nothing. But one taste and I'm converted. These wines are freakin' delicious!
So, what exactly is a Pétillant-naturel, or a pét-nat to those in the know? Well, it refers to wines produced in the méthode ancestrale, an ancient and natural way of making sparkling wines, predating the méthode champenoise that we are more familiar with. All sorts of old world traditions are employed to create these simpler, more rustic sparkling's, but essentially these wines are bottled before primary fermentation and are finished without the addition of secondary yeasts or sugars. Pét-nats are often cloudy, unfiltered and capped with a crown seal (for safety!!). The end product is also exciting and unpredictable, opening each bottle is a surprise, suggestive of the time and location where it was bottled.
Pét-nats can be white, rose or red in colour (which makes them super versatile when pairing with foods, you've pretty much got it all covered). They vary enormously in carbonation, from almost still, to tiny-prickly bubbles, to effusive effervescence! Each bottle needs to be well settled and cold before opening to minimise the latter. Thanks to all those natural yeasts and sugars pét-nats are usually slightly funky on the nose and to taste. They are zingy and bouncy with an appealing array of flavours.
What Pét-nat Wines Do We Have
We are lucky enough to have a very limited number of Pét-nats in stock at the moment. They are as rare as hen's teeth on the Australian wine scene (although are making a bit of a resurgence among the cool and groovy inner city hipster types who are always on the hunt for the next big thing – there is even a rooftop bar in Brooklyn, NY, dedicated solely to the sale of Pét-nat wines!). They are well worth a try, especially if you are keen to broaden your horizons in terms of tasting wines that are really pushing wine making techniques and flavours in new directions and are really challenging more traditional methods of wine production.
We have three wines from Anton van Klopper at Lucy Margaux/Domaine Lucci. Anton has long been on the front lines of the Australian 'natural wine' movement. He has produced a range of delicious natural wines, his 'Wild Man' Pinot being a true standout. He is well known as one of the more challenging avant-garde winemakers in the country and his creativity seems to know no bounds. Hailing from the Adelaide Hills, an area with a steadily growing population of younger and more experimental and creative wine makers, he is crafting unique styles of wine with fervent commitment to the natural. His more recent foray into Pét-nats has proved to be a success.
The three wines we have available to you are of a rather spectacular nature. Made in the méthode ancestrale, with fermentation taking place in ceramic 'egg' these wines are surprising and versatile. With a slightly lower alcohol content (11.5 %) than other sparkling wines, and with the freshness of youth, they are very easy to drink. Please read on for more information.
The Noir de Noir. It's Black on Black, baby! This wine is made from 100% Pinot grapes from the Adelaide Hills and started out it's fermenting life in a ceramic ovum. To look at it's dark ruby red in colour, with a nice steady, fine bead. Rich dark cherries, strawberries and plums are evident on both the nose and palate, with a candy-like character. The finish is uber clean and fresh, just begging you to have one more bottle…I mean glass. Anton picked the Pinot grapes early enough to ensure they had the acid and zip needed for this style, but when the product looked a little pale and 'serious' he had to make alternative plans. A couple of weeks later when the rest of his Pinot fruit came in he threw in a bucket of riper grapes, adding a darker colour and fuller mouthfeel.
The Blanc de Blanc is practically alive. This wine needs to be seriously allowed to settle and cool before opening because you will not want to lose even a drop of this zingy goodness to overflow. To look at this wine is pale golden gloriousness with awesome effervescence. It has a slightly funky aroma. To taste the wine is a dry and slightly wild. Being made exclusively from early pick free run chardonnay grapes, then fermented in ceramic eggs, it's fresh, fun and juicy. More please
Not technically a Pet Nat, but a Chardy with some fizz, The Nouveau Chardonnay 2016 is made from chardonnay pressings and is lean and young. The appearance in the bottle is similar to barley water, pale gold with an almost greenish tinge. Nothing, if not versatile, this white can be drunk cloudy with a very slight spritz or decanted and drunk clear and still. Borne in the traditional Pét-nat style, in a ceramic egg, this is a soft and delicate wine, with fresh flavours and aromas. An absolute delight to drink.
A very limited number of these wines were made and we have only managed to secure a small stash, don't miss out on tasting them!
---