What Is Natural Wine

Part anarchy, part time-honoured tradition, natural wines have existed for thousands of years prior to industrialisation. In this bygone era wine was not made using commercial yeasts, vitamins, enzymes, Mega Purple, reverse osmosis, cryoextraction, powdered tannins or sulphur dioxide. These wines of the past were made from crushed grapes that fermented into wine, it was as simple as that, and no definition was needed as it was just 'the way it was done'. The techniques were vastly experimental and as varied as the winemakers themselves who worked with whatever opportunities were at their disposal. Today, natural wine is being artfully made, dutifully drank and savoured by those who champion a sustainable livelihood fed by the provisions of nature. Natural winemakers take calculated risks but thoroughly impressed with the results are forging ahead with a lot of faith and a hawk-eye attention to detail, both essential instruments, and to date very little failure has been recorded by sommeliers who are the natural wine movements' strongest supporters.
The Philosophy of Natural Wines
Natural wines over arching philosophy is non-intervention. From vineyard to cellar the wine is made using quality fruit grown by organic and biodynamic practices and experimental and free-form methods of viticulture. They are cultivated in tune with the 'nature' evident in both the grapes and the territory in which they grow.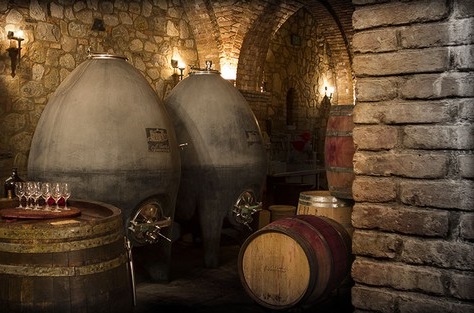 The Techniques & Tools
The operative heading is 'Lo-Fi'. Clay Amphora or terracotta pots are types of vessels used for fermenting, as are ceramic eggs and demijohns. New oak barrels are used only when appropriate for the ageing process and not as a flavouring. Filtration is kept to a minimum as is the use of sulphur-dioxide and other additives.
Looks Like and Tastes Like, The Results
Wines made without the regular assortment of additives or interventions offer a purity of fruit and impart the taste of the wines natural terroir. There may not necessarily be rollicking fruit-salad flavours in the glass, or a distinguishing scent of oak, rather natural wines are more cloudy, a kind of dusty yellow like organic apple juice, the scent and taste are vinous, slightly sour with a pulpy, gingery, gentle wine ending, something New York wine writer Alice Feiring sometimes refers to as a ''puppy breath'' finish. Other descriptors in the arena insinuate the natural taste as rustic, savoury, muddy, meaty and threateningly funky.
The Leading Practitioners in Australia
New generations of winemakers are making a full u-turn towards making wine 'naturally'. A group of creative Australian winemakers called 'Natural Selection Theory' advocate that "forgetting everything you know and relinquishing your old ways" are as close as you will get to a manifesto of natural winemaking in Australia and like the wines they produce, the group doesn't mind confronting established views on a how a wine should be created. It's members are Anton von Klopper of Lucy Margaux in the Adelaide Hills who employs handmade paper labels, uses cork exclusively and once attempted to make wine without electricity, and Tom Shobbrook the son of Eden Valley farmers who worked in Chianti for five years, James Erskine, a trained sommelier and soil scientist makes wine in the Adelaide Hills under the Jauma label and Sam Hughes from Sydney once described as part jongleur, part warlock is also a quintessentially radical winemaker and member of the group. In 2012 they embarked on 'The Egg Project' with Hunter Valley semillon. They fermented and aged the semillon in nine 44 litre egg shaped ceramic vessels and immersed them in three different soils types; quartz sand for 'isolation', red clay for 'love' and limestone for 'strength'. The finished wine was released in 900ml 'birthing spheres' and came with a 12-inch LP dedicated to "The Sounds of Birth". The same year they released 'Voice of the People', their ode to a peasant wine made in a 23 litre demijohn with the red wine topped with olive oil to keep it fresh.
"Have the strength to let it fail" is their maxim.
What the critics are saying
"If it gets people interested in wine who might not otherwise be interested, you cannot argue against that being a good thing," says Australias most prominent wine writer James Halliday but some conventional wine makers have stated that "it would be remiss to throw the baby out with the bath water", as they have tirelessly beaten their armour to defend their ways of winemaking to ensure certain qualities that indicate well made wines and their specific characteristics are given due regard. Also protective of conventional winemaking is John Rymill; "it infers the rest of us are indulging in unnatural winemaking, which is not so", but Banjo Harris Plane, sommelier at acclaimed Attica restaurant says natural wines offer a flavour and texture not found in more conventionally made wine; "I've been working with wine most of my adult life and when I came across these wines they were so new and exciting that they really took my breath away."
RECOMMENDED NATURAL WINES
---