Settimo Podere
Pizzolato – Italian organic trailblazer guided by tradition
Italian organic producer – La Cantina Pizzolato – has been making organic wine in the Veneto region for 40 years. They are based in Villorba in the heart of the Prosecco DOC region – just a short distance from historic Treviso and the floating city, Venice.
We are excited to see two labels from this impressive northern Italian producer – the 'Settimo Podere' label grown on the estate and the certified organic and vegan 'Sunny Farm' label from some of our other favourite Italian regions.
40 years of sustainability…
The farming business – Pizzolato Settimo & Gino – was first est. in 1981. The young Settimo Pizzolato worked with his father on the family farm growing apples, pears, peaches, strawberries, kiwifruit, and most importantly grapes. Then Settimo started to look into alternatives to chemicals for pest management, which began 40 years of passion for organic and sustainable wine.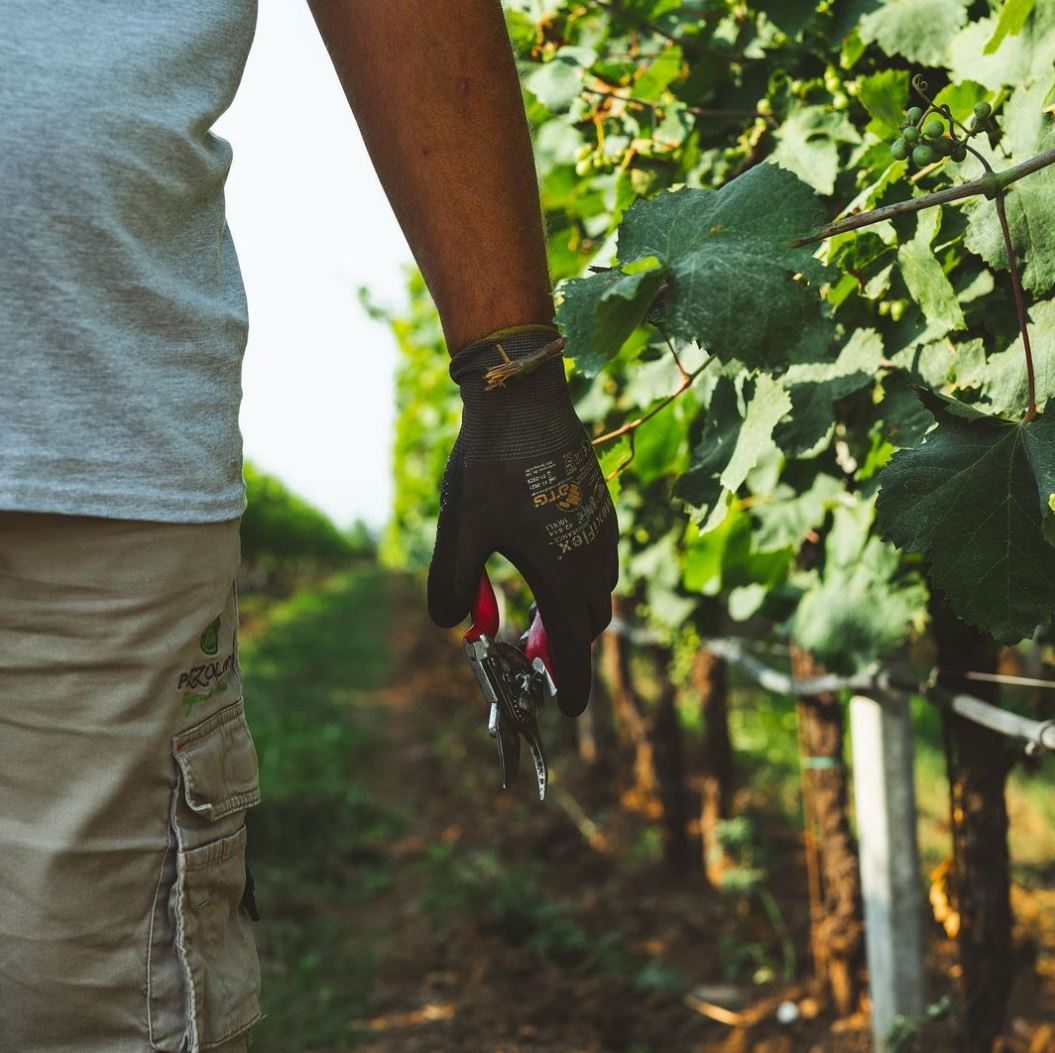 Green Evolution…
Of all their crops, the vineyards responded best to organic methods. By 1991, the Pizzolato winery had obtained organic certification – the first year that organic certification was given in Italy. From the early days selling their wine in cask, to doing their first bottling onsite in 1987, Pizzolato has since experimented and evolved new sustainable initiatives.
In 2007, they produced their first wines without added sulphites. In 2010, they installed a solar array to produce 50% of their energy on site. In 2012, they obtained vegan certification. They increased their solar panels in 2017 to produce 100% of their energy needs, and installed water purification equipment to use 100% recycled water at the winery.
Guided by family tradition…
Settimo is the custodian of a five-generation farming legacy that began north of Treviso in the early 1900s, and he carries on with his children Federico, Stefania, and grandson Edoardo. While they've made great strides with technology, family traditions are fundamental. Their sustainable principles are guided by their family's rural past:
"I have memories of my grandfather working the land and being healthy, and I have always wanted to live like him. I feel that I am a farmer, this is why I keep the tradition going," explained Settimo.
Veneto and beyond…
The Veneto wine region and its capital Treviso is just north of Venice in the northeast of Italy. It's the largest wine region in Italy and renowned for its sparkling Prosecco, Soave, and Merlot. Pizzolato's vineyards are full of wild herbs, dragonflies, ladybirds. The roots of their vines grow in a loam enriched with minerals, full of stone dragged overtime by the Piave river, in view of the Dolomites mountains. As well as the wines from Veneto DOC, they have sourced organic, vegan certified parcels from famous DOCs around Italy including Chianti, Sicilia, and Abruzzo.
Certifications from around the world…
Exporting their wines all over the world has meant this family operation has collected an impressive list of certifications including:
UE Farming – Euromarchio – identifies the organic products of European origin.
Piwi International – international association for fungus resistant varietals (No GMO).
USDA Organic – certified in accordance with the regulation by the USDA since 2007.
BIO Suisse – all organic wines exported to Switzerland certified by a recognized authority.
Vegan Friendly – since 2012, at no stage in the production chain, wine comes into contact or are treated with products of animal origin.
BSCI Code - Code of Conduct – protecting workers' rights such as International Labor Organization (ILO) conventions and declarations, and UN Guiding Principles on Business and human rights.
GMO Free Verified – since 2015, all wines are absent from raw materials that derive or contain genetically modified organisms.
---