Minimum Wines – good humans making mindful wines.
Author: Kim Pearce & Michelle Gadd Date Posted:14 July 2021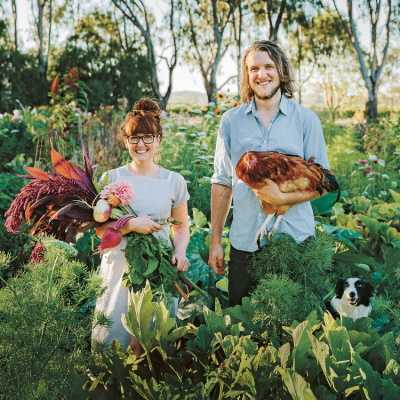 You might know Matt and Lentil Purbrick from Grown and Gathered – all about their organic garden farm and sustainable lifestyle. Embracing seasonal cooking, village life and traditions of the past, and charting their journey in two books, Grown & Gathered and The Village. They have garnered a great following and have embarked on several impressive projects to share their knowledge and show the way in living a simpler and happier life.
With their newest project, Minimum Wines, Matt returned to his roots in partnership with his father, head winemaker Alister Purbrick of Central Victoria's heritage Tahbilk winery. There have been five generations of Purbricks at Tahbilk, and Matt has childhood memories of checking the ferments with Dad. And, this year, Minimum Wines cracked the Young Gun of Wine Top 50 Winemakers with their mindful take on sustainable, minimal wines.
Matt & Lentil grow their grapes on 125-acre vineyard near Toolamba, on the Goulburn River in Victoria, which is certified organic and uses regenerative principles. They will never use synthetic inputs and only add naturally derived inputs where needed to help improve soil microbiology, nutrient cycling, carbon sequestration and vine health.
They have an impressive manifesto, best of all, the wines are great, so read on and learn more about their wonderful story!
5% to Impact… Making a social difference.
First and foremost, Minimum Wines have committed themselves to making a positive impact on product, people, and place. Matt and Lentil have promised to donate at least 5% of revenue each year. In 2020, they made it 5.2%.
The blend in 2020 included:
0.6% to supporting our community via donated wine: artists, musicians, and community organisations.
0.5% to supporting artists via commissions for our Short Runs labels + Zines.
1.0% to support the recovery of Victorians devastated by the January 2020 bushfires via The Victorian Bushfire Appeal.
1.1% to planting one tree for each dozen wine sold.
2.0% to support the ongoing protection and support of Victorian & NSW wildlife via WIRES (Australian Wildlife Rescue NSW) & Wildlife Victoria.
Certified… going above and beyond.
Minimum Wines were organic in conversion from 2016 and certified since 2020. Certified carbon neutral by Toitū, Minimum Wines go beyond carbon zero, also planting one tree for every dozen sold to sequester even more carbon than they emit. Certified vegan with Vegan Australia with no animal products used in the making of their wines. And, Australian Certified Organic (ACO) meaning no synthetic inputs used in the vineyard or winery, with each vintage integrating more regenerative techniques to reduce organic inputs even further.
In 2020, they used just 4 of the 39 organic winemaking additions allowed in the ACO protocol. They include:
Tartaric Acid – a natural by-product isolated from the winemaking process, added back in small quantities to balance acidity levels, and naturally preserve the wine.
Sulphur – the fermentation process can naturally produce up to 15 mg/L of sulphites. They also add a little extra to most wines to stabilise and prevent oxidation and spoilage – but at half the organic protocol limits (i.e., 50mg/L for reds and 75mg/L for white and rosé wines) and for some wines, none at all.
Tannin – derived from organic hazelnut skins, added in small quantities before fermentation of some reds to activate enzymes that help to break down naturally occurring astringent tannins. After no-added tannin trials in these reds, they have decided not to continue in future. And,
Dry Ice – the solid form of C02 used occasionally to prevent oxidation in tanks that aren't completely full for temporary periods.
Minimal Intervention… true expression of the harvest.
Minimum Wines like to keep it simple: sunshine, water, and grape juice. They have a strong connection with traditional and ancestral winemaking and their primary technique is to intervene as little as possible to let nature take its course.
All wines are wild-fermented (no added yeasts), with low sulphur (less than half certified organic levels), no fining, minimal filtering, as well as reducing new oak barrels by over 80% (using oak barrels that are often discarded after 4-5 years, yet can easily give more than 40 years of use).
Sustainably Circular… closing the waste loop.
Matt and Lentil have thought deeply about every aspect of their model. From vineyard to bottle, these wines are part of a circular flow of energy. Everything from soil, grapes, bottles, packaging can be recycled or composted.
They compost all the leftover solids (leaves, stems, seeds, skins) after the grapes are crushed and pressed, and return it to the soil. In 2020, this was 27 tonnes of organic 'waste' – equivalent to the weight of 1,600 dozen! For each bottle of wine, 380g of organic 'waste' was produced and all of it was composted, with only 16.6g of waste per bottle sent to landfill.
They are big proponents of cork, since screwcaps aren't biodegradable and require non-renewables to manufacture. The natural, bark-derived closure that can be harvested by hand without harming the tree and is grown in highly biodiverse cork forests.
We love supporting really thoughtful people, making mindful wines with a positive impact, especially when the wines are so darn delicious and interesting. You can't go wrong in trying all the wines from both their main range, and the more quirky and short-lived "short runs".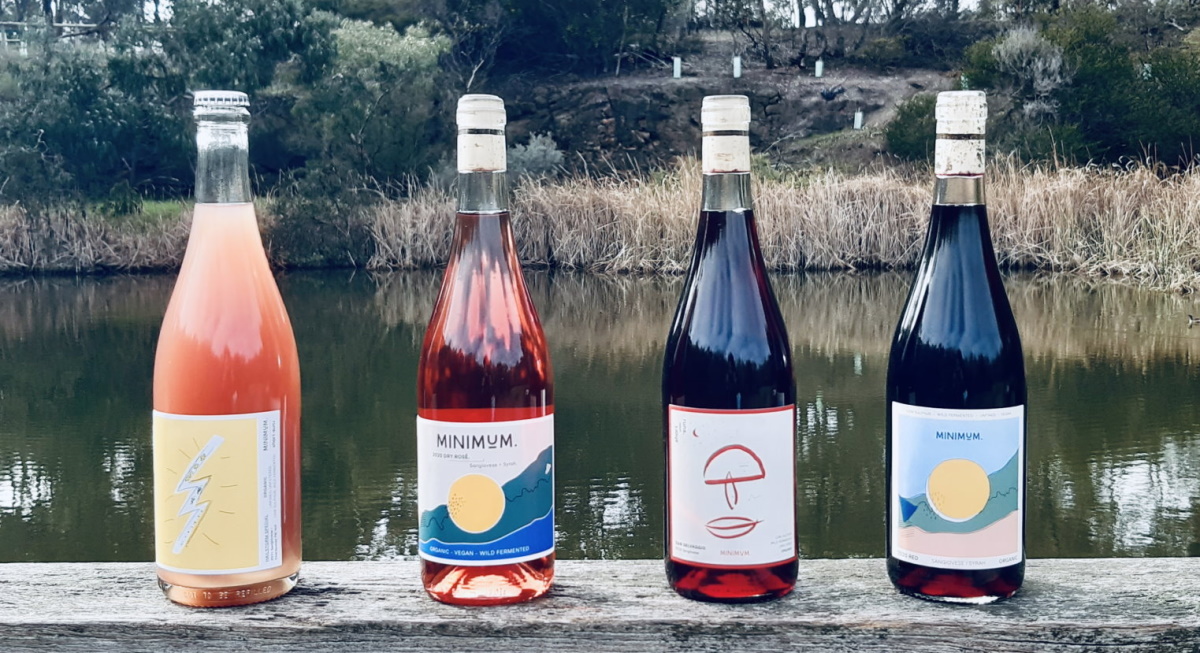 Main Range →
2020 Minimum RED Sangiovese / Syrah
Lush, crunchy, smashable – this 54% Sangiovese, 46% Syrah is bursting with ripe cherry, strawberry, red rose, and notes of leather, cupboard spice, and undergrowth. Generous texture, with a wild phenolic grip, gentle but bright acidity, and soft brick dust tannins. Wild fermented, unfined, and low sulphur. It is also certified organic and certified vegan.
2020 Minimum ROSÉ Sangiovese / Syrah
Dry, lip-smacking field blend rosé made from 53% Sangiovese and 47% Syrah. Full of rosewater, violets, watermelon rind, and bell-clear berries – strawberry, blackcurrant, and cranberry – on the vibrant, but earthy nose. More savoury on the palate with mushroom-y forest undergrowth and salty minerality, with zingy acidity, and white pepper spice. Wild-fermented. It is also certified organic and certified vegan.
Short Runs →
2020 Minimum 'San Selvaggio' Sangiovese
Heady, aromatic 100% Sangiovese, full of classic red rose petal and tar, black cherry, kirsch on the nose. Damson plum, savoury notes of wild thyme, cured meats, sundried tomato, rhubarb, and turned earth follow on the palate. Ripe, chewy tannins, great acid, and textural balance. Lovely served with a slight chill in the warmer weather. Wild-fermented, unfined or unfiltered, and low-sulphur. It is also certified organic and certified vegan.
2021 Minimum 'Hailstorm Special' Pét Nat
Pink rose petal coloured pét nat made from early-picked Sangiovese and Chardonnay grapes saved from a hailstorm. There is guava, ripe peach, orange blossom water, and mandarin on the nose. They follow on the palate with bright, foamy, citrus rind, sour lolly, grassy notes, with a balancing cloudy lees richness that finishes zingy and clean. Wild-fermented, unfined or unfiltered, low-sulphur. It is also certified organic and certified vegan. A perfect park wine.
---
---
Leave a comment