Rosnay Organics: Generations in the making…
Author: Kim Pearce & Michelle Gadd Date Posted:1 September 2021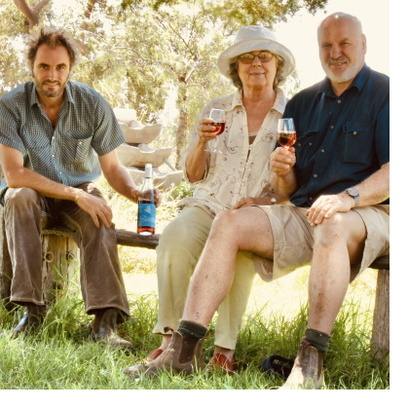 The Brief Rosnay Story so far…
In 1997 Richard & Florence Statham started Rosnay Organics at Canowindra on the New South Wales Central Tablelands. Their 34-ha farm, including 20-ha vineyard, olive grove, and fig orchard was named after Florence's grandfather, Alberic Dulong de Rosnay, who was a Beaujolais vigneron of northwest of Lyon in France. Their son, Sam Statham, was travelling and working on organic farms in New Zealand in the 1990's, and convinced his family that Organics was the way of the future. The interest in organics was also inspired by the principles of Richard's father, doctor and dermatologist, Clive Statham, who was an avid organic gardener. As well as Sam, Richard & Florence's other sons, Nick and Oli, were variously involved over the journey. Today Sam makes the wines and runs the farm, along with his wife Simone, and they live onsite with their in their family in a haybale house, with Richard and Florence living in the original farmhouse and still helping out.
The Rosnay wine business itself grew organically, starting by providing grapes to local established organic wineries, and by way of payment, getting some bottled product back to start their own label. A few vintages on sales had grown, and larger batches of wine were made under contract from neighbouring wineries. In 2014 they tipped their toes in the water of winemaking, with Sam making their first "Garage" wines on the property. In 2018 they built a dedicated strawbale winery on the property, enabling most of the winemaking to now be done onsite, allowing a focus on hand-picked grapes, small (half tonne) open ferments, hand-plunging, wild yeast ferments, minimal filtration and gentle gravity transfers.
Now let's dig into some of the interesting aspects of the Rosnay story in a bit more detail...
The Cooperative Approach
In 1998, Rosnay sub-divided their farm and developed a community called River Road Organic Farms (RROF), a unique model of cooperative organic farming run under a community title, a model more usual in France. Seven growers share resources and together make up the 138-ha property. RROF uses organic certification to assist in the sustainability and harmony of multiple small growers to work towards a common goal – viable organic farming.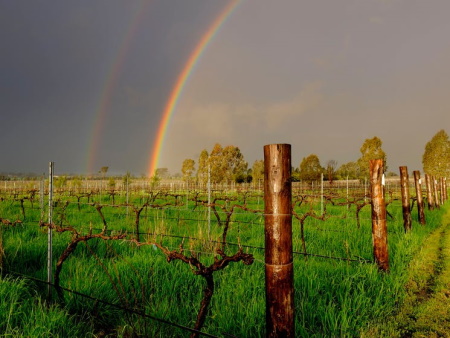 The Cowra Region
If you haven't been to this beautiful part of the world, Cowra is part of the NSW Central Ranges, in the scenic Lachlan Valley, just over two hours north of Canberra and around four west of Sydney. Twinned with higher altitude neighbouring region Orange, it is influenced by the slopes and volcanic soils of extinct volcano, Mount Canobolas. Hot summer days and cool winters, with cool nights year-round, mean long growing seasons ideal for grape growing, particularly Shiraz and Chardonnay.
Organic Pioneers…widely recognised
Rosnay Organics was Canowindra's first organic vineyard and farm, and they are organic pioneers in the region. They were awarded the inaugural NSW Organic Pioneers' Award by the NSW Government in 2012, as well as Winestate's Australian Organic Wine of the Year in 2016. If you're planning a trip, Rosnay Cottage is their carefully restored 1910 Canowindra farmhouse. It is a lovely guest house and farm-stay that won Gourmet Traveller WINE Star Cellar Door and Best Accommodation in 2020. The hospitality from Florence and Richard is first class.
Always Organic…working with nature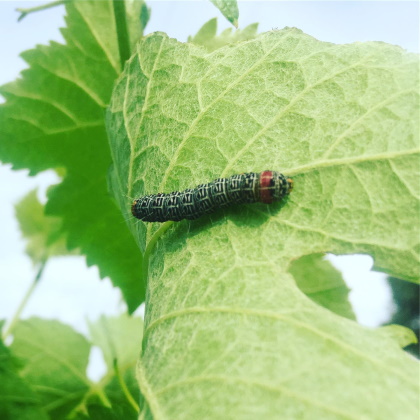 Unlike many organic wine producers, who have converted from conventional agriculture, Rosnay's vines and trees have never been sprayed with "harmful chemicals". Convinced that chemicals should not be used to produce food, these three most important principles of organic farming drive them:
"Feed the soil, not the plant." Plants that take up fertilisers dissolved in water are soft and susceptible to pests and disease. But, when the soil's organic matter, humus, and biological activity is healthy, deep rooted vines drink clean water, nutrients, and express the season, region, and variety.
"Weeds are nature's workers." Noxious weeds are, of course, eliminated by hand – but recasting them from crop competition to builders of organic matter. "Weeds" add important value: grass roots provide fibre, tap roots draw up deep nutrients which become available to the vines after the weeds have died, actually becoming "fixers" of fertilising nitrogen and beneficial insects.
"Pests and diseases are the symptoms of other problems." Fungal decomposition is part of all ecosystems, as are pests and disease. Rather than fighting disease with "systemic" fungicides, the organic grower works to avoid disease, (e.g., opening the canopy to air and light), or use non-toxic, topical soap, milk, or sulphur; or sanitation (e.g., burning infected canes) to break a disease cycle. Similarly for insect pests – not spraying can encourage beneficial parasites and predators to keep the pests in natural balance.
Close the Loop… solutions towards self-sufficient sustainability
The Stathams' are an ingenious bunch, coming up with creative responses to sustainable farming. They use only local resources – grazing animals transform pasture into manure, to return to the soil and become humus – essential for good soil structure and plant health. Clever solutions like raising vineyard trellises to 1.2 m meant sheep can graze, keeping down the weeds and fertilizing the soil in winter and summer while the grow without nibbling the fruit. This also improved airflow and sun exposure through the canopy for better colour and flavour in the grapes.
In April 2021, after some planning, Rosnay disconnected the old generator and plugged into their new solar powered, battery-supported, peer-to-peer-trade-ready, 3 phase power station. Part of the NSW DPI On-farm energy pilot projects scheme, the plan is to start "Peer to Peer" trading of surplus power generated with the other farms in their project.
Time to celebrate their hard work and achievements by tasting the wines…
With their passion for preservative free winemaking, light touch oak and wild ferments, strong aversion to added sulphur, fining and filtration – their beautiful terroir can be fully expressed. Try their lovely vegan-suitable, certified organic range. Look out for their new "natural" skin contact wine and very popular preservative free "Freedom" wines.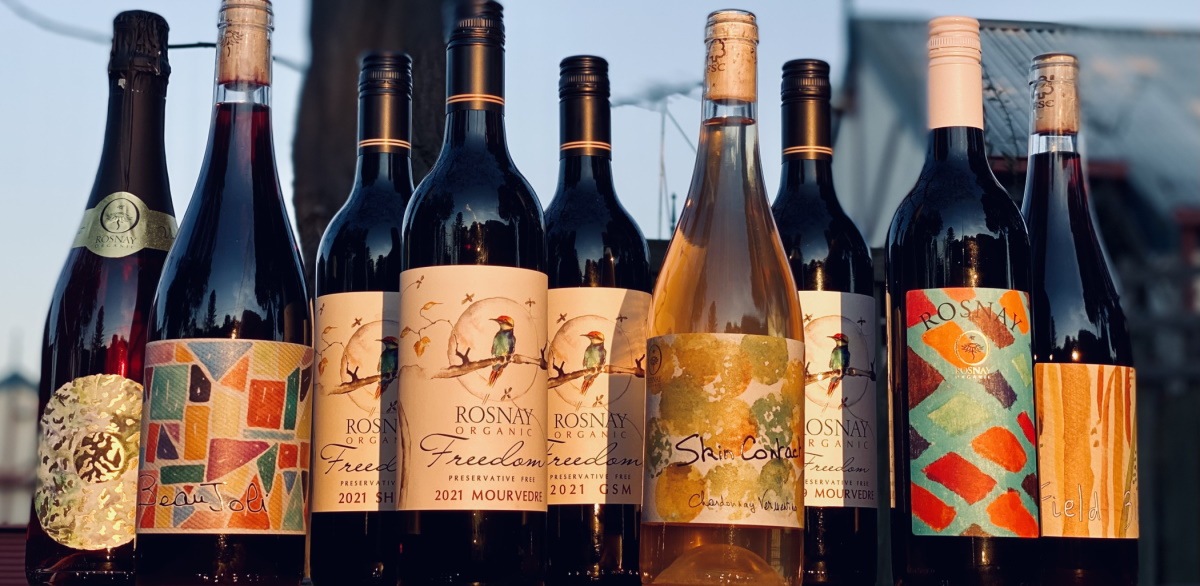 Shop All Rosnay Wines and Packs
Certified Organic | Preservative Free | Vegan Suitable
Fresh, ripe, vibrant Chardonnay aromas of ripe white peach and lemon blossom, meld with magnolia, nectarine, fresh mown hay, almond kernel, and lemon meringue pie. Soft citrus acidity gives this wine a lovely line and length.
Certified Organic | Vegan Suitable
A prime example of just how wonderful mature Semillon can be. Pithy-lemon characters, with a lovely glycerol texture; there are complex notes of lemongrass, mandarin peel, beeswax, lemon butter, minerality, and a slippery, yet savoury mouthfeel.
Certified Organic | Preservative Free | Vegan Suitable
A south of France colour, with aromas full of strawberry, pink rose petal, spicy bergamot, and Anzac biscuits baking. They follow on the palate with red fruited acidity and spice including redcurrant, rosehip tea, white pepper, and savoury leather.
Certified Organic | Preservative Free | Vegan Suitable
A lovely southern Rhône-style blend. Grenache, Shiraz, and Mourvèdre make a soft, jube-y, spicy wine. It is full of white pepper and juniper spice, bright, sweet raspberry, juicy blood plum, soft liquorice, tomato stalk, lively acidity, and ripe fruit tannins.
Certified Organic | Vegan Suitable
A natural wine made from wild fermented, open vat, unfiltered and unfined Shiraz. This is a wild, pheromonal ride, with zippy acidity and fantastic length. Muddled raspberry, blackcurrant, and blood plum, savoury cured meats, menthol, baked rhubarb, pink peppercorn spice, and zippy acidity.
Certified Organic | No Added Preservative | Vegan Suitable
A natural, wild-yeast-ferment Shiraz, Mourvèdre, Grenache, Carignan, Vermentino, and Cabernet made in the semi-carbonic maceration style, like Beaujolais Nouveau Gamay. Blue-fruited with violets and red rose aromatics. Blueberry, blackcurrant, and raspberry lollies meld with forest floor notes of dry bracken and pine needles, with a twist of black pepper and bright acidity.
A Short Story of Rosnay Organic Farm
Rosnay Wines Video Case Study by REDFLOW ENERGY
Learn more about Rosnay's use of Solar Energy to power the farm
Suggested Wines & Packs from Rosnay Organic:
---