Spring Seed Forget-Me-Not Sauvignon Blanc Semillon 2012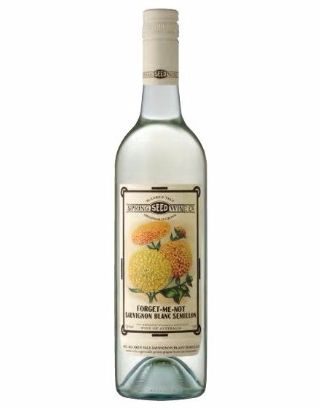 SOLD OUT
Certified Organic
Vegan Suitable
Wild (Natural) Yeast Fermentation
Freshly cut grass and a hint of citrus on the nose is followed with a lovely mid-weight palate which is super fresh and framed by those soft lemony characters which come from the Semillon. Forget-me-not is perfect when served chilled as an aperitif, but very versatile when matched with a range of different food. Try it with stir fries, lighter creamy cheeses or even dessert.
The Story
"Our wines are based on organic viticulture combined with traditional vinification and natural minimal processing. All this is intended to ensure the purity, integrity, texture and flavour of the vineyard."

The Spring Seed Wine labels are unashamedly inspired by vintage flower seed packets created at the turn of the last century. The colour, clarity and beauty of the original seed packets are quite remarkable. We chose three different flower images to adorn each one of our McLaren Vale wines, simply because they are quite lovely. The Forget-me-not Semillon Sauvignon Blanc has the Pot Marigold (Calendula officinalis) Forget-me-not (Myosotis spp) and Sunflower (Helianthus annuus).

VINTAGE 2012: They're all different, that's for sure. Vintage 2012 was condensed into about 8 weeks from go to whoa which meant we had finished crushing all grapes by the end of March. Generally this state of affairs would only have transpired by the middle to end of April. Yields across all varieties were considerably down on average (from 15-40% in some varieties), but quality is very strong. We had cool conditions up until the end of February then some rain, which did not affect things too much as the whites were already picked and safely in the winery, and reds were unaffected. Joch's prediction is that 2012 will be a great red wine year.

Winemaking: As brutish as Joch looks in his photos, he is a gentle winemaker, which is exactly what this style of wine requires. A deft, light hand in the winery helps us retain the delicate aromas of these varieties. Both Semillon and Sauvignon Blanc were reductively handled, which means we protected the grapes from air to help capture their fine aromatics and ensure the flavours reached the bottle intact. Cool, temperature controlled fermentation also help in this endeavour. Neither variety spent any time in oak. Semillon was picked very slightly riper than the Sauvignon Blanc, which was picked at a lean 11 degrees Beaume, in order to retain its natural acidity and the wonderful grassy notes of this variety. Simple stuff then, really, but utterly essential for this style of wine. The blend is 52% Sauvignon Blanc and 48% Semillon.
The Specs
| | |
| --- | --- |
| Wine Type | White |
| Region | McLaren Vale, SA |
| Grapes | Sauvignon Blanc |
| Grapes | Semillon |
| Vintage | 2012 |
| Alcohol % | 12 |
| Certified Organic | Yes |
| Vegan Suitable | Yes |
| Closure | Screwcap |
| Volume | 750mL |
| Packaging | Glass Bottle |