Rosnay Shiraz 2012 (Cask 15L)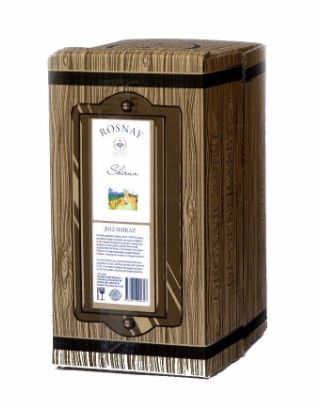 SOLD OUT
Certified Organic
Wild (Natural) Yeast Fermentation
Winery/Brand: Rosnay
Ultimate Eco Packaging. Now you can afford to share organic wine with all your friends for the equivalent of $5.50 per bottle.
This is a smooth medium bodied wine with flavours of pepper and warm spice on the front palate, finishing with lingering tannins.
The 2012 Shiraz was open fermented with some maturation on oak, and then blended with 14% Cabernet.
Shelf life of 1-2 months
The Story
The first weekend in March 2012, with the Shiraz almost ready to harvest. The vineyard was flooded with 200mL of rain. Harvest was delayed by three weeks enabling the fruit to regain flavour. Thankfully, Organic Shiraz in our region has proved to be very resilient and able to escape disease.
Ultimate Eco Wine Packaging
Rosnay has been moving toward ecologically friendly packaging since 2009 when it first began to use the 370g "Lean + Green" Australian made wine bottles.
Even so, they have always felt that the conventional packaging of wine leaves much to be desired. The recycling rate for glass bottles in Australia is still only 40%, according to Clean Up Australia.
With each cask the saving in packaging is 20 x 750ml bottles, and even if these were "Lean + Green" bottles, each of which still contains 493g of embedded carbon emissions, that's 10kg of CO2 emissions saved per cask.
Why the Bag in a Box?
Quality : The 100% BPA free bladder keeps wine fresh for 6 weeks after opening and does not suffer spoilage due to cork taint.
Convenience : It is easy to open and serve, and does not break like glass.
Environment : This box delivers Certified Organic Rosnay wine to you with the smallest manufacturing, storage and transport footprint.
To Open : Push and tear along perforations to expose tap. Rcmove circle and Put tap in its place. Replace tab to secure tap.
The Specs
| | |
| --- | --- |
| Wine Type | Red |
| Region | Cowra, NSW |
| Grapes | Shiraz |
| Grapes | Cabernet Sauvignon |
| Vintage | 2012 |
| Alcohol % | 13.5 |
| Certified Organic | Yes |
| Volume | 15 L |
| Packaging | Bag in Box |