OLD VINE Preservative Free Cabernet from Freehand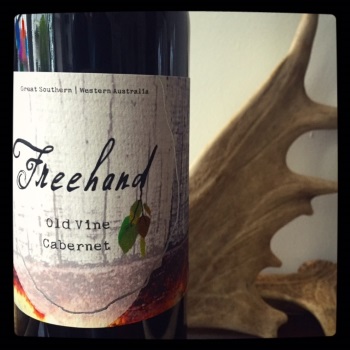 Freehand Natural Wines 2008 Old Vine Cabernet.
Buy it here!
Not only have Matt and the Freehand team created a delicious aged preservative free wine, they've also been lovingly crafting an amazing Old Vine Cabernet. This sumptuous Cabernet is created using grapes, from a dry crop vineyard, one of the oldest in The Great Southern Wine Region of Western Australia. The grapes, handpicked from the 40 year old vines, were small and the juice intense. This wine was lovingly tended to, with rising skins being hand plunged and recombined with the magical fermenting juice beneath. Skins and juices were then gently pressed through a hand operated basket press. The wine was barrel aged for 30 months in French oak, Hogheads and Barriques. After regular checks and top ups over the next 2 years this wine was bottled (without filtering or fining) and sealed. Matt keeps the wine to age it for a further 5 years, allowing the flavours to soften and become more complex (and with proper cellaring this wine will continue to age for another 3 to 5 years).
The Old Vine Cabernet certainly impressed the team here ar organic wine HQ. Matt has even created a 'new look label' for his brew… with a It has a deep crimson hue, with blackcurrant, Morello cherries and hints of chocolate and cedar on the nose. Once you enjoyed the visual and the aromas, that first sip doesn't disappoint. With hints of brown sugar and caramel, as well as the concentrated flavours of dark red fruit, berries and aniseed spice, it is supremely delicious!
This wine is preservative free and produced under organic and biodynamic principles. Buy Now