Champagne Francoise Bedel Dis Vin Secret NV Brut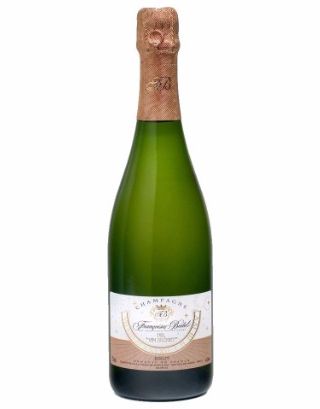 SOLD OUT
Certified Organic
Certified Biodynamic
Wild (Natural) Yeast Fermentation
Bedel's overwhelmingly Meunier-dominated NV Brut Dis, Vin de Secret Brut (this batch harbors 15% Chardonnay and 5% Pinot) received partial barrel-élevage, though it was fermented in tank. Its greenhouse-like evocation of flowering and leafing things is typical for Meunier, with scents of coriander and mint prominent, and those of apple, winter pear, and almond anticipating the dominant flavors on a coolly restrained, silken textured palate. Cleansing yet clinging, the lusciously lingering finish subtly glows with an aura of herbal essences. Having no experience with this wine before now, I can only hazard a guess that it will continue to delight for a couple more years – and for all that I (don't) know, perhaps significantly longer.
The Wine Advocate Rating: 92
(11/30/2013)
The Story
Fermented in tank with indigenous yeast and aged partially in barrel sur lees for a minimum 7 years. Always zero dosage and a wonderful expression of Pinot Meunier minerality. This wine is rich, vinous, savory with hints of salt and biscuit.
Wine making: Vinified in enamelled steel tanks and oak barrels. Made from the majority of the 2005 harvest.
Visual impression : Sumptuous effervescence with a delicate bead of fine bubbles. The colour is antique gold. The wine is vivid and sparking.
Nose : The wine's maturity comes to the fore with a combination of dried fruits and spicy undercurrent, and confirmed after aeration by suggestions of tropical fruits.
Palate : It is full and round with nice apple's freshness and citrus aromas. The finish reveals maturity, giving the wine a great length.
HARVEST: 2005 in majority and some 2004 reserve wines
AGE OF THE VINES: 20-60 years
TERROIRS: Limon and Marno (in limestone)
BOTTLING: May 2006
DISGORGING: From October 2012
TIME ON LEES: 6 years
WINEMAKING: Enamelled tanks and oak casks(10%)
DOSAGE: Brut
The Specs
| | |
| --- | --- |
| Wine Type | Champagne & Sparkling |
| Region | Champagne, France |
| Grapes | Pinot Meunier |
| Grapes | Chardonnay |
| Grapes | Pinot Noir |
| Vintage | Non Vintage |
| Alcohol % | 12 |
| Certified Biodynamic | Yes |
| Certified Organic | Yes |
| Wild Yeast Fermentation | Yes |
| Closure | Cork (natural) |
| Volume | 750mL |
| Packaging | Glass Bottle |