Battle of Bosworth White Boar 2011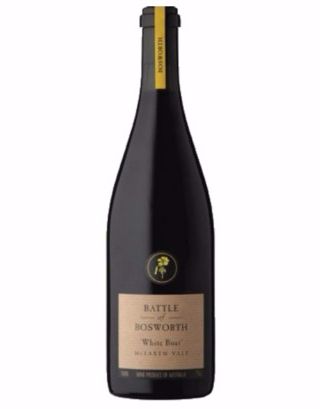 SOLD OUT
Certified Organic
Vegan Suitable
Wild (Natural) Yeast Fermentation
The nose is rich and spicy with a range of characters – chocolate, spice, star anise, red fruits, I could go on. The palate is rich and soft with gentle tannins and considerable length; you can taste the wine for several minutes after you have swallowed it. White Boar used to be 100% Vine-concentrated Shiraz but now is about 60% Shiraz and 40% Cabernet. The addition of the Cabernet (cordon cut and dried in exactly the same way as the Shiraz) has given the wine a little more backbone with regards to tannins. White Boar does well with rich stews and braises, or a hard cheese platter by a roaring fire.
The Story
"90+ points. Made from Shiraz and Cabernet Sauvignon grapes that were cordon-cut and left to dry on the vines for two weeks prior to harvesting, the medium to deep garnet colored 2011 "White Boar" displays evolving fruit notes of blackberry preserves and stewed plums with hints of Chinese five spice, dusty earth and fruit cake. Full-bodied with a good amount of spicy, maturing black fruit flavors, it has a racy line of acid and low to medium levels of rounded tannins that carry through the long finish. Drink it now to 2018+. " - The Wine Advocate #211 February 2014 Lisa Perrotti-Brown

Technical Details
Vineyard: Chanticleer
Picking Date: 27th March 2011 (Cab Sauv) and 8th April 2011 (Shiraz)
pH Level 3.42
Total Acidity:6.95g/L
Alc/ Vol:14.5%
Bottling Date:21st November 2012

VINTAGE 2010:We recorded just about average annual rainfall over the year, which resulted in healthy crops of Shiraz and Cabernet. Unseasonably warm November weather interfered with the chardonnay during flowering and has resulted in small crops of this variety. The weather then remained almost perfect for the rest of vintage. The general consensus amongst winemakers in the Vale is that 2010 marks an exceptional year for both red and white wines.
WINEMAKING: White Boar is our tilt at producing an Amarone style red wine. Amarone is made in Italy using indigenous grape varieties. The grapes are harvested when ripe and dried on racks for several weeks before fermentation, making a rich, characterful wine. We have adapted the theory by actually drying our Shiraz and Cabernet grapes on the vine (after cutting the cordon) to achieve the same effect, but with more risk! Shiraz and Cabernet had their canes cut and were left to dry on the vines for approximately 12-14 days.

The drying process concentrates flavour, sugar and acid. Grapes were then hand-picked and fermented in old oak. These vine-dried concentrated wines are made as a blending component for the single vineyard Battle of Bosworth red wines. In 2010 we had enough left over to bottle a small volume of the White Boar.
The Specs
| | |
| --- | --- |
| Wine Type | Red |
| Region | McLaren Vale, SA |
| Grapes | Shiraz |
| Grapes | Cabernet Sauvignon |
| Vintage | 2011 |
| Alcohol % | 15 |
| Certified Organic | Yes |
| Vegan Suitable | Yes |
| Closure | Screwcap |