Ngeringa - A Place of Sheoaks
Author: Michelle Gadd Date Posted:27 August 2020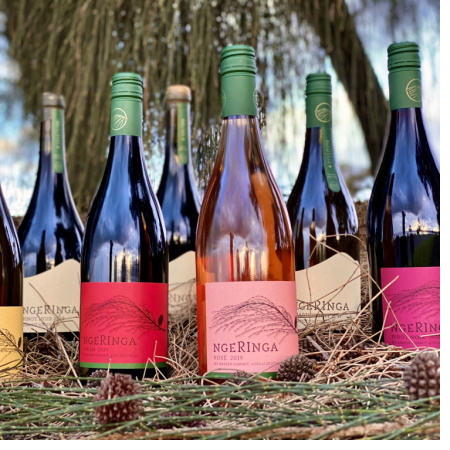 A Place of Sheoaks
Ngeringa (Nerr-ing-gah) is the Aboriginal word for sheoak (Casuarina), and a sense of place is at the heart of everything that is produced by this amazing Biodynamic estate. The 75-hectare farm is located at the southern end of the Adelaide hills,in the shadows of Mt Barker, and surprisingly only 40 minutes from the CBD, but it's not just a farm, it is a complete ecosystem.
A Precious Gift
Erinn Klein and Janet Klein founded Ngeringa wines nearly 20 years ago. The vines were planted in 2001, on what was previously the site of the highly acclaimed Jurlique biodynamic herb farm, started by Erinn's parents, Jurgen and Ulrike Klein in 1985. They were one of pioneers of Biodynamic farming in Australia.
It was the property on which Erinn grew up. So, there was never any question about the vineyard being biodynamic, given the natural history of the farm & the pedigree of the Klein's. The pristine land was a priceless gift that they would nurture and sustain, for themselves and their community.
Biodynamics – the Rhythms of Life
"Ngeringa has been certified biodynamic for more than 20 years. It is the biodynamic process that creates a balanced and healthy relationship between soil, plant and all living beings – and opens the vines to optimum expression of flavour in the glass."
Within the Ngeringa ecosystem practices are employed that, to the untrained eye, may seem excessive, but as Swiss watchmaking is to Biodynamic winemaking, environmental excellence is everything. Ngeringa's whole of farm approach in tandem with moving to the rhythms of nature allow the wines to be their most expressive.
Biodynamic soil preparations & teas, inclusive of seaweed, fish, stinging nettle, chamomile, yarrow, and of course, the eponymous casuarina, boost the vine's immunity from fungal growth, and milk whey is employed as a replacement for sulphur sprays. Different animal herds comprising chickens, sheep & Scottish Highland cattle are rotated on a 10-day cycle through the vines, keeping the balance intact on the soils and vines. Read more here
Not Just Vines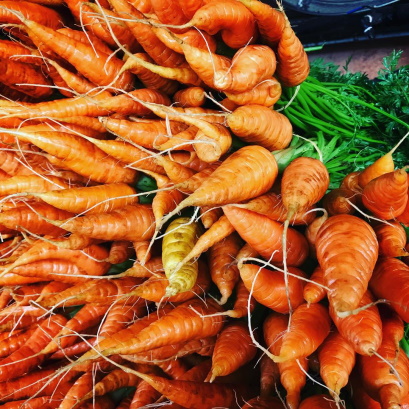 You can't live on wine alone (apparently). True to their nature and holistic approach, the farm has expanded its biodynamic fruit and vegetable production in recent times, after finding the right partner in Andy Taylor. They are now supplying local greengrocers and restaurants as well as 25 or so veggie boxes going to families in their local community. They also produce olive oil and host regular community food and wine events. This diversity of activity is especially important to Erinn and Janet, as a more complete approach to farming, living and supporting their local community.
They have also undertaken extensive revegetation to combat the loss of native habitat and biodiversity, and are committed to a long-term revegetation plan, in partnership with Trees for Life.
Although separate to the endeavours of Erinn and Janet, the original Ngeringa property also homes UKARIA, a world class cultural centre and 220-seat concert hall, resultant from the amazing philanthropic work of Erinn's mother Ulrike. After Ulrike built Jurlique into a global brand and divested most of her interests, she turned her energies to philanthropy focussed on her love of music. "Money is just an energy," Klein insists. "It doesn't matter how much you have, it's how you use it and how you give it." Read more about Ulrike's inspiring story.
The Wines
Now it's our chance to be able to join this story, through these remarkable wines.
On the outside the Ngeringa range has benefitted from a label refresh, a more colourful and modern approach, with the Casuarina taking its place front and centre. It is fitting livery for such superb wines.
At the Ngeringa "entry level" we have Chardonnay, Rose, Pinot Noir and Syrah (aka Shiraz). Entry level for some, but these are very impressive, top class wines, worthy of just about any occasion Complex, varietal, approachable and unique to their terroir.
Syrah is always a deliberate choice of name to indicate a lighter, more elegant, restrained and savoury style of Shiraz, suited to grapes grown at higher altitude. This Syrah is intriguing, violets, white pepper, rose petal, with fine chalky tannins. Made from whole-bunch fermented grapes, matured in old barrels for 11 months
The Rose has always been a highlight of the range, juicy, floral, fruity and textural and this vintage is no exception, but the quantities this year are miniscule, so a 3-bottle limit applies.
Full of flavour, the Chardonnay is bright & vibrant, with lemon/lime hints and a nutty complexity. This will develop into a generous buttery wine. While the Pinot Noir nearly feels like a health tonic, it's a juicy cherry elixir, very easy to drink with forest floor herbal hints and a lovely suppleness, quite rich in flavour with generous sweet fruit.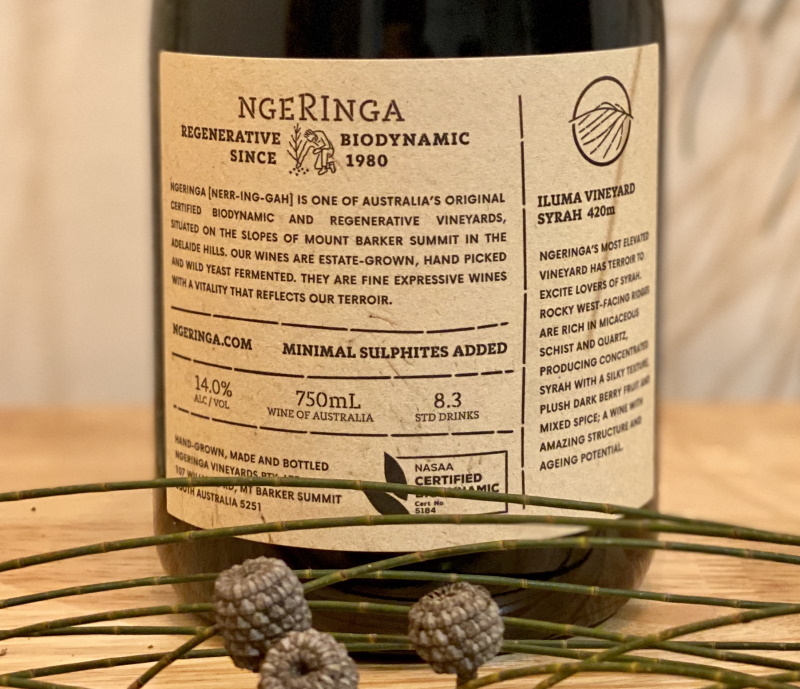 The Single Vineyard range is the apex of the Ngeringa ecosystem and is priced accordingly. All bottles are individually numbered, and we love this touch. It gives you a moment to appreciate that you are getting something completely unique and hand-made with the utmost care.
The Summit vineyard is on the cooler easterly facing slopes of Mt Barker, at an altitude 360m, and produces outstanding quality fruit for the Summit Pinot Noir and Summit Chardonnay. The Chardonnay is so stylish and complex with many layers of flavour and interest. The Pinot Noir is no less impressive, very low yields in a dry grown year has led to a wonderful wine full of wild forrest berries, plums and earthy nuances.
Facing north at an altitude of 420m, the Iluma Vineyard yields the most inspiring fruit, destined for the Ngering Iluma Syrah. Earthy and brooding with blue and black fruit, dried herbs and earth. It's dense and meaty with spice and perfume. Full of complexity and personality, with raspy tannins prolonging the flavour and feel. It will age, but it's so good drinking right now. No need to wait. Only 888 bottles of this wine were produced in 2018
What a joy to be able to drink such wines and offer them to our customers. From such a pristine estate and made with so much care and thought.
Check out all the detailed notes for Ngeringa Biodynamic wines below.
---
---
Leave a comment