Yalumba Organic Chardonnay 2011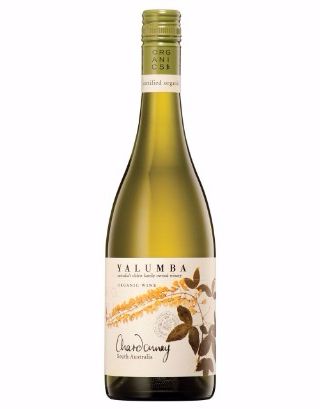 SOLD OUT
Certified Organic
Vegan Suitable
Wild (Natural) Yeast Fermentation
Pale straw in colour with green hues, the Yalumba Organic Chardonnay 2011 has aromas of peach, melon and ripe stone fruits, which are complemented by a touch of funk from the wild yeast fermented characters. The palate is a beautiful layering of distinct flavours starting with stone fruits and hints of lemon rind, leading to a creamy custard apple finish.
Winemaker Heather Fraser
Harvested 18th & 21st March 2011
Alc/Vol 13%
Total Acid 5.6 g/l
pH 3.33
Suitable for vegans and vegetarians.
The Story
Viticulture/Winemaking: Made with organic winemaking techniques with very little winemaking intervention. Located on the Murray River at Loxton, the Barich Family have a beautiful organic vineyard that produces some wonderful Chardonnay. They have been joined in the 2011 Vintage by the Carypidis Family of Virginia who have been producing Chardonnay of a high quality for Yalumba for some time but have only recently been certified organic. Meticulous work in both vineyards ensures that the grapes are in perfect condition when they are picked, and together they have created a wine that showcases the variety for the first time under Yalumba's Organic label.

Vintage: After years of drought, the weather changed this vintage and South Australia experienced a cool and wet season that was a challenge for all. Through meticulous care in the vineyards and without compromising their organic principles, our organic Shiraz growers again produced grapes that had great flavours.

" Sourced from two certified organic vineyards in South Australia, this chardonnay has lovely rich fruit and good weight in the mouth, finishing fine and dry. " Max Allen, Gourmet Traveller

" ...The Organic Chardonnay is fragrant, full bodied, and relatively complex in character (especially for a wine at this price point). It is supple, crisp, and very long on the palate, with medium flavor persistence, tasting of peach, lemon peel, straw, toast, and apple. Great value... " 4+ stars - Ronn Wiegand, Restaurant Wine, June 2013

" This Chardonnay smells of peaches and melon with oatmeal and some oak complexity, the palate is creamy and strangely more neutral than I was expecting, it's driven by texture and complemented by some citrus and peach, it finishes clean and surprisingly long. " Patrick Haddock, www.winingpom.com.au, 19 January 2012
The Specs
| | |
| --- | --- |
| Wine Type | White |
| Region | South Australia |
| Grapes | Chardonnay |
| Vintage | 2011 |
| Alcohol % | 13 |
| Certified Organic | Yes |
| Vegan Suitable | Yes |
| Wild Yeast Fermentation | Yes |
| Closure | Screwcap |
| Volume | 750mL |
| Packaging | Glass Bottle |