Wood Park Wild's Gully Classic Dry White NAP 2014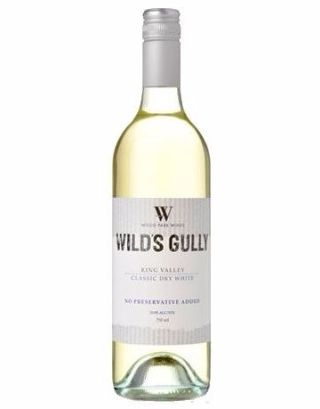 SOLD OUT
Vegan Suitable
No Added Preservative (Preservative Free)
Colour: Pale straw green
Nose: Citrus Pear apple and honey
Palate: Citrus Guava nectarines and grapefruit. Crisp with a satifying finish
Food Matches: Poached Atlantic Salmon.
The Story
Colour: Pale straw green
Nose: Citrus Pear apple and honey
Palate: Citrus Guava nectarines and grapefruit
Food Matches: Poached Atlantic Salmon.

Variety: Chardonnay and Semillon
Region: South Eastern Australia
Alcohol: 12.5%
Oak Maturation: N/A
Cellaring Potential: Drink before mid 2015


This wine is directed at wine lovers who are sensitive or intolerant to sulphur added to most wines. As this wine does not have any preservatives added it is highly recommended to consume before mid to late 2015. It is also highly recommended to keep this wine stored in the refrigerator if the ambient temperature is above 18-20 degrees Celsius.
In the fining of this wine no animal protein products have been used and makes this an ideal option for anyone following a Vegan diet.
This wine displays characters of citrus, Guava and ripe stone fruit and has a crisp dryness and clean finish.
The Specs
| | |
| --- | --- |
| Wine Type | White |
| Region | King Valley, VIC |
| Grapes | Chardonnay |
| Grapes | Semillon |
| Vintage | 2014 |
| Alcohol % | 12.5 |
| No Added Preservative | Yes |
| Vegan Suitable | Yes |
| Closure | Screwcap |
| Volume | 750mL |
| Packaging | Glass Bottle |