Tamburlaine Organic Verdelho 2015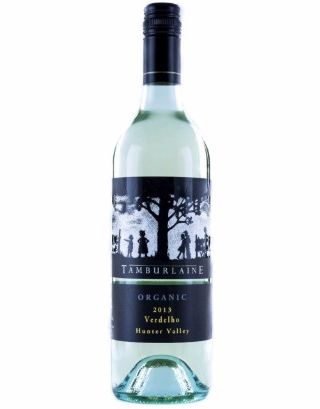 SOLD OUT
Certified Organic
Wild (Natural) Yeast Fermentation
Jasmine & fresh citrus aromas. The palate has hints of passion-fruit and apricot with juicy mouth-filling palate and a zesty citrus finish.
The Story
2015 Tamburlaine 'On the Grapevine' Organic Verdelho
Grape Varieties: 100% Verdelho organically certified
Verdelho was traditionally used in making fortified wines. It is now widely used in producing excellent dry style wines that are enjoyable young, and also hold great ageing potential. All grapes in this wine are organically grown and certified.
Region: Hunter Valley, New South Wales
The Verdelho grape thrives in the Mediterranean-style climate of the Hunter Valley, producing wines that are intense in flavour and richness.
Vintage Conditions: A portion of the grapes were picked early to capture crisp acidity. The remaining grapes were allowed to fully ripen to allow the tropical fruit flavours to develop.
Bouquet: Jasmine and fresh citrus aromas.
Palate: Hints of passionfruit and apricot with zesty tangerine citrus.
Serving Suggestions: This wine is an excellent accompaniment to full flavoured spicy, aromatic dishes, particularly foods of Asian influence.
Alcohol: 12.2%
Minimal Sulphites used: A minimal amount of sulphur dioxide has been added to this wine to keep it stable and fresh.
Harvest date: March 2015
Cellaring: 5 yrs in a cellar <20°C
Stelvin Screwcap Seal: We use screwcap to ensure consistent wine quality.
Tamburlaine: Since our establishment in 1966, we have strived to produce the best quality wine while at the same time, caring for our natural environment. In 1998 we began converting our vineyards to organic production. The result is not only better Tasting wines, but also a more environmentally sustainable farm. Tamburlaine isAustralia's largest certified organic wine grape producer.
James Halliday's Australian Wine Companion 2014 5 red stars means "Outstanding winery regularly producing wines of exemplary quality and typicity. Will have at least two wines rated at 94 points or above andhad a five black star rating for at least the previous two years", James Halliday.
The Specs
| | |
| --- | --- |
| Wine Type | White |
| Region | Hunter Valley, NSW |
| Grapes | Verdelho |
| Vintage | 2015 |
| Alcohol % | 12.2 |
| Certified Organic | Yes |
| Closure | Screwcap |
| Volume | 750mL |
| Packaging | Glass Bottle |