Tamburlaine Organic Pinot Gris 2016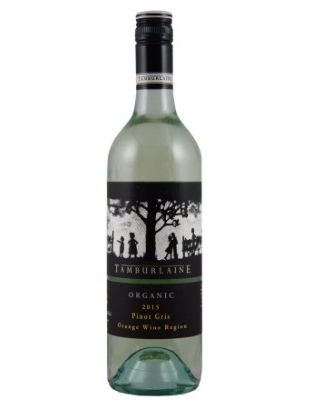 SOLD OUT
Certified Organic
Wild (Natural) Yeast Fermentation
This wine is a delightful pale straw colour, light and appealing in the glass. If the colour isn't appealing enough on its own, the aroma certainly gets it over the line. Tamburlaine seems to have a bottle full of pure spring time. Musky notes come forward, with hints of tropical lychees, balanced with mineral, limestone notes take me straight to a warm evening by the beach.
On first sip there are massive (and delectable) hits of sweet lychee balanced with the zingy acid of passionfruit. There is a distinct glycerine feel that coats your mouth with the flavours and holds a lengthy, but soft, finish.
Delicious with crumbly cheese, lamb kebabs, or just as is!
The Story
2016 Tamburlaine 'On the Grapevine' Organic Pinot Gris
Grape Varieties: 100% Pinot Gris, organically certified
All grapes in this wine are organically grown & certified.
Region: Orange Wine Region
The high altitude, cool climate and volcanic red soils in our Orange vineyards are ideal for growing premium quality Sauvignon Blanc.
Vintage Conditions:
.
Bouquet: Nashi pear, lychee and musk
Palate: Generous passionfruit and sweet lychee with lovely glycerine texture
Serving Suggestions: Crumbly cheese or lamb kebabs
Alcohol: 12.5%
Minimal Sulphites used: A minimal amount of sulphur dioxide has been added to this wine to keep it stable and fresh.
Harvest date:
Cellaring:
Stelvin Screwcap Seal: We use screwcap to ensure consistent wine quality.
Tamburlaine: Since our establishment in 1966, we have strived to produce the best quality wine while at the same time, caring for our natural environment. In 1998 we began converting our vineyards to organic production. The result is not only better Tasting wines, but also a more environmentally sustainable farm. Tamburlaine isAustralia's largest certified organic wine grape producer.
James Halliday's Australian Wine Companion 2014 5 red stars means "Outstanding winery regularly producing wines of exemplary quality and typicity. Will have at least two wines rated at 94 points or above andhad a five black star rating for at least the previous two years", James Halliday.
The Specs
| | |
| --- | --- |
| Wine Type | White |
| Region | Orange, NSW |
| Grapes | Pinot Gris |
| Vintage | 2016 |
| Alcohol % | 12.5 |
| Certified Organic | Yes |
| Closure | Screwcap |
| Volume | 750mL |
| Packaging | Glass Bottle |