SPRING SEEDS FOUR O'CLOCK CHARDONNAY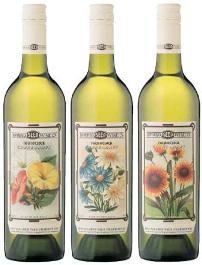 Beautiful Wines - Exceptional Value
Only $15.70 per bottle in a mixed case or $14.90 per bottle straight case.
The Spring Seed Wine Company is a new label from the Battle of Bosworth gang. The presentation is absolutely beautiful, and the wine itself just as good. Their first release is the 2008 Four O'clock McLaren Vale Chardonnay, with the reds to follow shortly. In each straight case you get a mix of the 3 different label designs.
"Restrained tropical fruits, citrus and orange blossom, as well as a hint of white stone fruit (nectarine) characterise this Chardonnay on the nose. The palate similarly shows restrained tropical fruit and exhibits balance and a satisfying evenness with a clean, fresh, citrus finish.
Our wines are based on organic viticulture combined with traditional vinification and natural minimal processing. All this is intended to ensure the purity, integrity, texture and flavour of the vineyard.
Spring Seed Chardonnay is picked six times over a ten day period in order to capture different flavour profiles. Each batch is handled and fermented separately to add complexity to the finished wine. The wine did not go through malolactic fermentation and is not aged in oak in order to retain crisp, natural acidity.