Spring Seed Scarlet Runner Shiraz 2012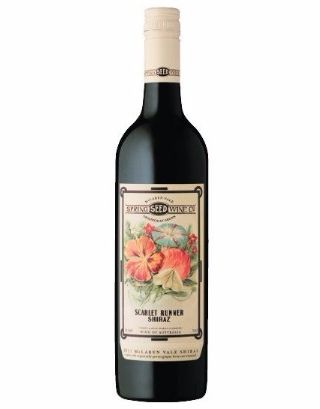 SOLD OUT
Certified Organic
Vegan Suitable
Wild (Natural) Yeast Fermentation
Big bright red and dark fruits on the nose, with damsons and blueberries too. The faint whiff of spice and black fruits on the nose go through to the palate, and a hint of chocolate reveal Scarlet Runner's origins – these are classic McLaren Vale Shiraz descriptors. Fine grained tannins and a lovely persistence and length make this a super mid-weight wine ideal for drinking on its own on a cold night or matched with a hearty stew.
Technical Details
Picking Dates: 25th, 27th, 29th February 2012
Ph: 3.61
Total Acidity: 6.19 g/L
Alc/Vol: 14.5%
Bottling Date: 10th April 2013
The Story
Spring Seed Wines are made from grapes lovingly grown in our family's organic vineyard, located in the premium wine region of McLaren Vale, South Australia. The vineyard was established in the early 1970s by Peter and Anthea Bosworth, and is now owned and run by their son Joch, who began the conversion to organic viticulture in 1995. Organic farming is based on minimising the use of external inputs, and as such our certified organic grapes are grown and processed without the use of synthetic chemicals or fertilisers.

The Spring Seed Wine labels are unashamedly inspired by vintage flower seed packets created at the turn of the 18th century. The colour, clarity and beauty of the original seed packets are quite remarkable. We chose three different flower images to adorn each one of our McLaren Vale wines, simply because they are quite lovely. The Scarlet Runner Shiraz displays the Hardy and Half Hardy Climbers, Centaurea (Centaurea nervosa) and Zinnia (Zinnia elegans) label.

VINTAGE 2012: They're all different, that's for sure. Vintage 2012 was condensed into about 8 weeks from go to whoa which meant we had finished crushing all grapes by the end of March. Generally this state of affairs would only have transpired by the middle to end of April. Yields across all varieties were considerably down on average (from 15-40% in some varieties), but quality is very strong. We had cool conditions up until the end of February then some rain, which did not affect things too much as the whites were already picked and safely in the winery, and reds were unaffected. Joch's prediction is that 2012 will be a great red wine year.

WINEMAKING: We used a mixture of open and small tank fermentation to make our Scarlet Runner Shiraz. We use a combination of old and new oak barrels to mature the wine in, comprising a mix of both French and American oak. We use about 10% new oak. McLaren Vale makes such bright vibrant Shiraz; we don't want to smother it with oak. We really want this wine to be all about the fruit.
The Specs
| | |
| --- | --- |
| Wine Type | Red |
| Region | McLaren Vale, SA |
| Grapes | Shiraz |
| Vintage | 2012 |
| Alcohol % | 14.5 |
| Certified Organic | Yes |
| Vegan Suitable | Yes |
| Closure | Screwcap |
| Volume | 750mL |
| Packaging | Glass Bottle |