Spring Seed Poppy Pinot Grigio 2014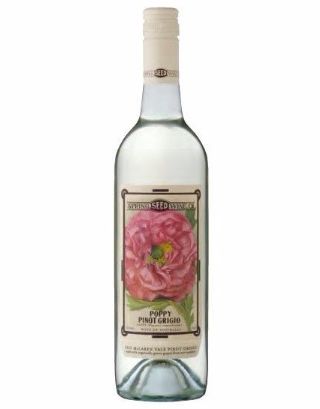 SOLD OUT
Certified Organic
Vegan Suitable
Wild (Natural) Yeast Fermentation
The Grigio has a classic varietal pear and citrus nose with a character that Joch calls 'bath salts' which indicates a floral perfume. The palate reflects the nose and the wine finishes with a zing. Perfect with some sushi or alone as an aperitif or with mild soft cow's milk cheeses.
Technical Details
Picking Date: 10th February 2014
Ph: 3.12
Alc/Vol: 13%
Bottling Date: 12th May 2014
The Story
Spring Seed Wines are made from grapes lovingly grown in our family's organic vineyard, located in the premium wine region of McLaren Vale, South Australia. The vineyard was established in the early 1970's by Peter and Anthea Bosworth, and is now owned and run by their son Joch, who began the conversion to organic viticulture in 1995. The vines are fully certified 'A' grade organic by Australian Certified Organic, a process that takes four years and involves yearly audits and random sampling of produce.

The Spring Seed Wine labels are unashamedly inspired by vintage flower seed packets created at the turn of the last century. The colour, clarity and beauty of the original seed packets are quite remarkable. We have chosen the Poppy, Alyssum and Sweet William flower images for our Pinot Grigio labels.

Vintage 2014: Vintage 2014 was a season of extremes for us all in McLaren Vale. We had great winter rains which gave us a full soil profile in time for a dry and windy spring. They don't call it windy Willunga for nothing – I think if we'd had a set of wind chimes on the property, we would have heard them all day and night from September to January. We had a series of very hot days in January, followed by about 45mm of rain over a 48 hour period in early February which slowed ripening of our red grapes right down. We had picked all of our white grapes prior to the rain 'event' and so we had a decent break between whites and reds, like the good old days. There was no splitting of any of the grapes left on the vine after the rain, mercifully, either. Joch's analysis of 2014 is that it was a gentleman's vintage – everything came in slowly and in order, not like the mad rush of 2013. Every vintage is different; truism of our time, and of our industry.

Winemaking: We aim for the Italian rendition of this variety when it comes to making 'Poppy'. We want light and fresh rather than weighty and unctuous. As such, we pick early and at night and ferment the grapes in stainless steel tanks, making sure we keep the grapes cool to help retain flavour and acidity. 'Poppy' does not spend any time in oak at all.
The Specs
| | |
| --- | --- |
| Wine Type | White |
| Region | McLaren Vale, SA |
| Grapes | Pinot Grigio |
| Vintage | 2014 |
| Alcohol % | 13 |
| Certified Organic | Yes |
| Vegan Suitable | Yes |
| Wine Style | Zesty |
| Closure | Screwcap |
| Volume | 750mL |
| Packaging | Glass Bottle |