Spring Seed Forget-Me-Not Sauvignon Blanc Semillon 2013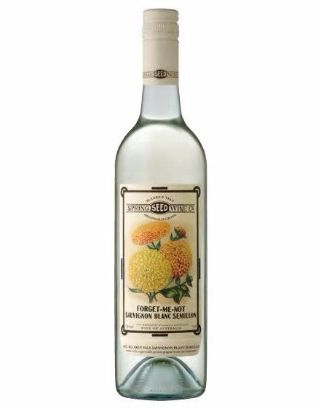 SOLD OUT
Certified Organic
Vegan Suitable
Wild (Natural) Yeast Fermentation
Pale gold. Spicy, focused aromas of fresh citrus and orchard fruits, with a deeper nectarine quality emerging with aeration. Fleshy orange and pear flavors become firmer with air, picking up a hint of chalky minerals that provides focus and cut. Finishes with good clarity and bite, leaving a subtle floral note behind
Josh Raynolds in Tanzer's International Wine Cellar Issue 175 July/ August 2014 Best New Wines from Australia
The Story
Spring Seed Wines are made from grapes lovingly grown in our family's organic vineyard located in the premium wine region of McLaren Vale, South Australia. The vineyard was established in the early 1970's by Peter and Anthea Bosworth, and is now owned and run by their son Joch, who began the conversion to organic viticulture in 1995. The vines are fully certified 'A' grade organic by Australian Certified Organic. a process that takes four years and involves yearly audits and random sampling of produce.
The Spring Seed Wine labels are unashamedly inspired by vintage flower seed packets created at the turn of the last century. The colour, clarity and beauty of the original seed packets are quite remarkable. We chose three different flower images to adorn each one of our McLaren Vale wines, simply because they are quite lovely. The Forget-me-not Semillon Sauvignon Blanc has the Pot Marigold (Calendula officinalis) Forget-me-not (Myosotis spp) and Sunflower (Helianthus annuus).
Vintage 2013
We had good winter rains then warm summer conditions which brought about an early harvest. We had a few hot-cool-hot-cool periods which made it a little trickier to decide when to pick, but Joch reckons he got it right in the end.
Winemaking:
Delicacy in winemaking is the key to this wine, to maintain the lovely yet fragile characters from both varieties, and to ensure we don't lose them between picking and getting the wine into bottle. Semillon is picked a little riper than the Sauvignon Blanc, but both varieties are made reductively, which means we do our utmost to protect the grapes and ferment from air so as not to lose character or flavour. We cold ferment the grapes in stainless steel (no oak used to make 'Forget-me-not' at all) and when ready, we bottle it immediately.
Tasting Note:
This is a classic dry white blend, and it works so well for a couple of reasons. The Semillon complements the Sauvignon Blanc nicely, bringing texture and a lovely lemony mouthfeel, and the SB brings the florals and a hint of passionfruit. The fact that we have been obsessed in Australia with single varietal wines for what seems such a long time is as good a reason as any to celebrate this delicious blend. Even though they are so far away from everyone, they can't be all wrong in Western Australia, the home away from home of the SB/S blend, can they? 'Forget-me-not' is a great foil for seafood, stir fries, or mild creamy cheeses.
Technical Details
| | |
| --- | --- |
| Picking Date: | SB picked 7th and 12th Feb 2013 and Semillon on the 14th February 2013 |
| pH: | 3.03 |
| Total Acidity: | 6.93 g/L |
| Alc/Vol: | 13.0% |
| Bottling Date: | 21st October 2013 |
Josh Raynolds in Tanzer's International Wine Cellar Issue 175 July/ August 2014 Best New Wines from Australia
Pale gold. Spicy, focused aromas of fresh citrus and orchard fruits, with a deeper nectarine quality emerging with aeration. Fleshy orange and pear flavors become firmer with air, picking up a hint of chalky minerals that provides focus and cut. Finishes with good clarity and bite, leaving a subtle floral note behind. 89
The Specs
| | |
| --- | --- |
| Wine Type | White |
| Region | McLaren Vale, SA |
| Grapes | Sauvignon Blanc |
| Grapes | Semillon |
| Vintage | 2013 |
| Alcohol % | 13 |
| Certified Organic | Yes |
| Vegan Suitable | Yes |
| Closure | Screwcap |
| Volume | 750mL |
| Packaging | Glass Bottle |