Spring Seed Aster Pinot Noir 2015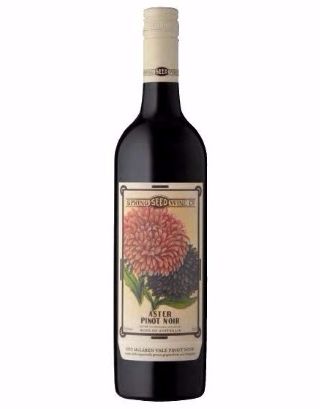 SOLD OUT
Certified Organic
Vegan Suitable
Wild (Natural) Yeast Fermentation
The colour is classic Pinot; bright, light red. This is the third year that we have made a Pinot Noir from our vineyards and it seems we have made once again an even, light to middle-weight wine with length and balance. There are lovely fresh red fruits on the nose which follow through to the palate. This wine will take being chilled on a hot day and works equally well as an aperitif or with a range of food such as salads, cheese, chicken dishes or charcuterie.
Alc/Vol:14%
The Story
Spring Seed Wines are made from grapes lovingly grown in our family's organic vineyard, located in the premium wine region of McLaren Vale, South Australia. The vineyard was established in the early 1970's by Peter and Anthea Bosworth, and is now owned and run by their son Joch, who began the conversion to organic viticulture in 1995. The vines are fully certified 'A' grade organic by Australian Certified Organic, a process that takes four years and involves yearly audits and random sampling of produce.

The Spring Seed Wine labels are unashamedly inspired by vintage flower seed packets created at the turn of the last century. The colour, clarity and beauty of the original seed packets are quite remarkable. We chose three different flower images to adorn each one of our McLaren Vale wines, simply because they are quite lovely. The Aster Pinot Noir has the Aster (Callistephus chinensis), Foxglove (Digitalis pupurea) and Hollyhocks (Alcea rosea) labels.


Vintage 2015: In terms of vintage 2015, Bozzie says the whites are looking outstanding and the reds are looking super-bright and varietal. While crops are down on previous years (which is what we were expecting) flavours most definately are not. Look out for wines from 2015 in the next couple of years.
Winemaking:Pinot Noir was planted on our Braden's vineyard in 1987, with many hands making light work; one notable pair of hands involved in planting were those of the schoolboy Joch who was put to work in the vineyards every holiday. We put about 30% of the Pinot Noir through carbonic fermentation in plastic bags in old apple crates. The idea of this winemaking process (where in fact we don't crush the berries at all) is to soften out the tannins. We processed the balance of the grapes in a fairly standard red winemaking fashion; crushed, fermented, pressed off skins into (predominantly older) oak before blending back to the 'cab mac' component and bottling.
The Specs
| | |
| --- | --- |
| Wine Type | Red |
| Region | McLaren Vale, SA |
| Grapes | Pinot Noir |
| Vintage | 2015 |
| Alcohol % | 14 |
| Certified Organic | Yes |
| Vegan Suitable | Yes |
| Closure | Screwcap |
| Volume | 750mL |
| Packaging | Glass Bottle |