Sensi DOCG Organic Chianti 2014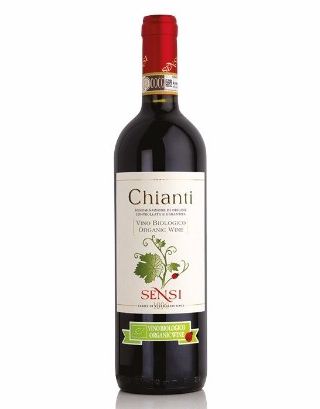 SOLD OUT
Certified Organic
Vegan Suitable
Wild (Natural) Yeast Fermentation
Winery/Brand: Sensi
Michelle says:
"Ahh Chianti...thoughts of lazy afternoons in the Tuscan countryside beside a lavender bordered pool. This wine is a perfect companion for such idle daydreams. Easy drinking with a smooth velvety palate and a pure expression of fruit."
The Story
What Does DOCG mean?
DOCG (Denominazione di Origine Controllata e Garantita) is the highest classification for Italian wines. It denotes controlled (controllata) production methods and guaranteed (garantita) wine quality. Basically you are getting an authentic and good quality Chianti.
PHILOSOPHY
"In a high-teach era, we must not forget the key role of the rhythm of the heart".
From this important concept, we source the need to recover a philosophic walk who could drive us to make more focus on a way of eating and drinking more coherent with mother Nature's teaching. "Campoluce"(light on field) Chianti comes from this priciples, respecting the local land and paying the highest attention to limit the stress of the vineyard and the soil where the grapes grow, leaving them to grow up in a very spontaneous way. A very ethical agricolture who has always characterized our winemaking, and that is also monitorized by our technicians and certified by the local specific organizations. Ruby red colour, with nice fruity bouquet, Campoluce has a good body and a fresh and smooth taste, with a good balance. We suggest to pair it with pasta, noodles, main courses with meat and vegetables and, all kind of organic dishes.
The Specs
| | |
| --- | --- |
| Wine Type | Red |
| Region | Montalbano, Tuscany, Italy |
| Grapes | Sangiovese |
| Vintage | 2014 |
| Alcohol % | 13.5 |
| Certified Organic | Yes |
| Vegan Suitable | Yes |
| Closure | Cork (natural) |
| Volume | 750mL |
| Packaging | Glass Bottle |