Rosnay Grand-Pere Reserve Shiraz Mourvedre 2013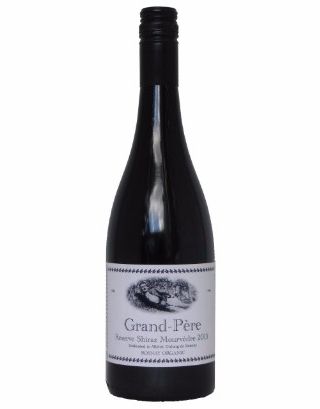 SOLD OUT
Certified Organic
Vegan Suitable
Wild (Natural) Yeast Fermentation
Winery/Brand: Rosnay
The Grand-Pere is the first foray into reserve wines by Rosnay. The label pays homage to Sam Statham's great grandfather, Alberic Francois Dulong de Rosnay.
It's a very appealing and flavourful combination of Shiraz and Mourvedre, aged for 12 months in oak, giving it a lovely old-world charm. The nose displays red fruit and the palate has meaty tannins and elegant acidity. It is expected to age well for at least 5 years.
The Story
Grand-Pere is named for Alberic Francois Dulong de Rosnay. Born in France he was called to fight in the 'Great War', a chlorine gas attack lead him to a war hospital where he was nursed by the woman who would one day become his wife. Together the couple grew wine grapes in the Beaujolais region, and in a small winery attached to their home they made wine from the famous Gamay grape variety. A man of the earth, Grand-Pere Alberic is remembered for his beekeeping, outdoor bread baking, and abundant vegetable garden. Great Grandfather to Sam Statham (the current Rosnay) custodian. The Rosnay vineyard is named in his honour, and this Reserve wine is a fitting tribute to the man who started it all.
2013 Vintage Notes
2013 was possibly the best year since 2008, though it finished warmer with fruit all ripening at once and some batches very ripe, but still solid and flavoursome. In 2013 some parcels of fruit were deemed by the winemaker, Chris Derrez, worthy of a "reserve" batch being aged in oak barrels – being the two classic partners, Shiraz and Mourvedre, blended in perfect harmony. A higher percentage of pressings were used for the Reserve, to give meatier, richer tannins that evolved well in barrel, gaining structure and power for 12 months before being bottled without fining agents and with a minimum of sulfites added to allow the wine to age graceully.
The Vineyards
Of all the vines at Rosnay, Shiraz is predominant with 8 out of the total 20 hectares. Rosnay Shiraz is grown as three clones to give complexity and diversity to help with seasonal variations. The vineyards are towards the top of the property on a combination of shallow sandy decomposed granite and floating stone, where the vines struggle, and of richer topsoil over well drained red volcanic clay, where vigour needs to be controlled. The best fruit could come from either site, depending on the season.
By contrast, the Mourvedre is the smallest variety grown at Rosnay, with only half a hectare, but with plans for expansion. An old southern french variety, it was chosen as an alternative variety in 2002, and has proven to perform well during drought and flood alike. The main challenge is to restrict yield by hard pruning or "green harvest" to thin the bunches. Well ripened it gives a rich gamey and earthy character to Shiraz, or picked greener it creates a lovely Rose.
2013 Vintage Data
Blend: Shiraz 75% Mourvedre 25%
Alcohol: 14%
Sulphur dioxide: Minimal
Animal proteins: Not added
The Specs
| | |
| --- | --- |
| Wine Type | Red |
| Region | Cowra, NSW |
| Grapes | Shiraz |
| Grapes | Mourvedre |
| Vintage | 2013 |
| Alcohol % | 14 |
| Certified Organic | Yes |
| Vegan Suitable | Yes |
| Closure | Screwcap |
| Volume | 750mL |
| Packaging | Glass Bottle |