Rosnay Garage Wine No 1 Cabernet Sauvignon 2014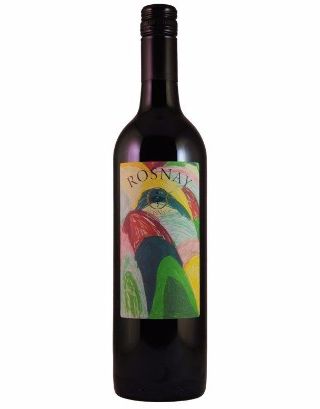 SOLD OUT
Certified Organic
Vegan Suitable
Wild (Natural) Yeast Fermentation
Winery/Brand: Rosnay
NASAA Ltd Certified Organic 'Wine of the Year' Australia 2016
"Very varietal with intense perfumed licorice and cassis aromas and a fleshy palate with excellent varietal flavours and prominent tannins. Powerful on the finish. (Cellar 3-5 years).
Organically grown Cabernet Sauvignon was hand picked at 13.3 baume on 10 March 2014, and chilled before crushing for an extended cold soaking and hand plunging with approx 10% whole bunches. A cool, slow open fermentation took place, and after basket pressing, secondary fermentation took place slowly in a ceramic "egg" and an old oak barrel.
Wine made by Sam Statham, and label painting by Georgia Statham.
The Story
"Aromas are black currant, Hubba Bubba bubble gum, pulp and black currant leaf. The palate typical varietal cabernet with black currant fruits and the under currant of celery, leafy dried herbs, are wed to the black fruits with varietal fine grained drying ripe tannins. Fresh medium bodied and interesting. Sam's first wine is a hit. 89/100″
Rob Geddes MW, Author of Australian Wine Vintages.
The garage wine project is about experimenting and learning with small handmade batches of wine and natural winemaking techniques, such as the ceramic egg. It would not be possible without the help of wine enthusiast friends, family and woofers.
Cabernet Sauvignon is ideally suited to the Cowra region where the late autumn temperatures are lower, especially at night, allowing for gentle ripening and flavour development of this late ripening Bordeaux red variety.

A total of 4 hectares of Cabernet Sauvignon is planted at Rosnay, on heavy clays on the lower slopes, to enhance the effect of the cool autumn night temperatures.

Organic and biodynamic methods are low input, and during drought the Cabernet yield was very low. No Rosnay Cabernet was made from 2009 to 2011 except for blending to produce the 2011 Triple Blend. This was mainly due to low yield, frost and drought. The 2012 Cabernet is probably the best vintage ever produced at Rosnay.

The making of the Rosnay Cabernet Sauvignon seeks elegance and finesse, rather than overpowering flavour and oak. It is lightly filtered and not fined with animal proteins, thus preserving complexity and flavour, and ageing ability. The 2008 vintage received many good reviews, and it is interesting to observe the improvement of the wine, from winning bronze medals initially, to silver in 2011 and finally a gold medal and trophy at the 2012 Cowra national Wine Show. It was judged as the second best in the open national class of Cabernet Sauvignon (65 competitors) and won the Greg Johnson Trophy for best local red wine of the show, and then it won the same trophy again in 2013.
The Specs
| | |
| --- | --- |
| Wine Type | Red |
| Region | Cowra, NSW |
| Grapes | Cabernet Sauvignon |
| Vintage | 2014 |
| Alcohol % | 14 |
| Certified Organic | Yes |
| Vegan Suitable | Yes |
| Closure | Screwcap |
| Volume | 750mL |
| Packaging | Glass Bottle |