Rosnay Freedom Preservative Free Red 2013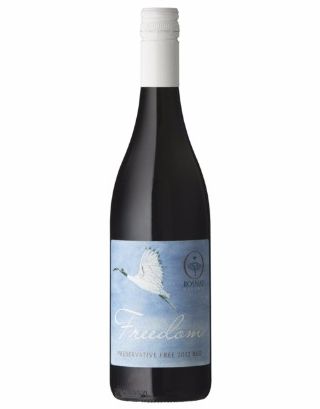 SOLD OUT
Certified Organic
Vegan Suitable
No Added Preservative (Preservative Free)
Wild (Natural) Yeast Fermentation
Winery/Brand: Rosnay
A vibrant red with tinges of purple. The flavours are equally rich and vibrant, with an abundant nose followed by a palate of ripe cherry and black currant. The mouth feel is full and rounded, with some oak contact, and the finish is generous and round with an element of residual sweetness (approx 6g/litre).
PLEASE NOTE: If you tried the 2012 vintage you will find this style different from that vintage. This is a fruity wine with an element of sweetness, quite removed from the rustic savoury 2012.
The 2013 Freedom Red is was made from 75% Shiraz and 25% Mourvedre. It is smooth and easy drinking, and can be enjoyed either at room temperature or slightly chilled. The wine is not made for ageing. Only a limited amount of this wine is produced each year to ensure that the wine is sold within 12 months of bottling. The original label painting by Florence Statham is of the Ibis who are wonderful and frequent visitors to Rosnay.
The Story
Preservative Free means the wine was made without any preservatives, in particular, sulfur dioxide. Preservative free red wine has a very vibrant colour with tinges of purple when first bottled, reducing slightly as the wine slowly oxidises in the bottle. The flavours are equally rich and vibrant, with an abundant nose followed by a palate of ripe cherry and black currant. The mouth feel is full and rounded, with some oak contact, and the finish is generous and round with an element of residual sweetness (approx 6g/litre).

The 2013 Freedom Red is was made from 75% Shiraz and 25% Mourvedre. It is smooth and easy drinking, and can be enjoyed either at room temperature or slightly chilled. The wine is not made for ageing. Only a limited amount of this wine is produced each year to ensure that the wine is sold within 12 months of bottling.

" This is a good, snappy, bright young red, too - both biodynamically grown pic.twitter.com/i370IRPQoI" Max Allen @maxallenwine twitter 2nd Sept 2013
The Specs
| | |
| --- | --- |
| Wine Type | Red |
| Region | Cowra, NSW |
| Grapes | Shiraz |
| Grapes | Mourvedre |
| Vintage | 2013 |
| Alcohol % | 13 |
| Certified Organic | Yes |
| No Added Preservative | Yes |
| Vegan Suitable | Yes |
| Closure | Screwcap |
| Volume | 750mL |
| Packaging | Glass Bottle |