Quinta do Ameal Loureiro 2009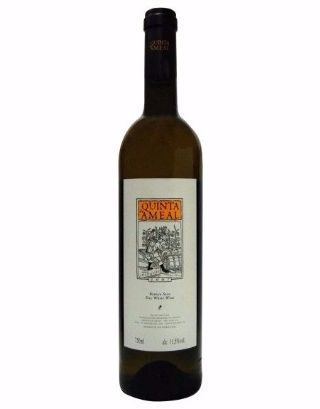 SOLD OUT
Certified Organic
Wild (Natural) Yeast Fermentation
Clear and light coloured. The wine possesses a good combination and balance of floral and fruity aromas, typical of well-ripened grapes from the Loureiro variety. It has an excellent body, a smooth, yet slightly crisp taste, a fruity palate and a persistent length.
The Loureiro is the grape of the Lima Valley subregion in Vinho Verde. The texture of the wine is rounded and creamy, although the crisp green fruits give a greate bright lift to this delicious, fresh wine.
In the sub-zone of Ponte de Lima, loureiro is the local specialty, and at Quinta do Ameal they take their loureiro quite seriously. Certified organic, Quinta do Ameal is also employing biodynamic farming methods as well. The wine shows lovely, spicy green pear aromas, with similar flavors that are bright, focused and beauitfully balanced. At 11% abv this is a delicately structured wine that is thirst quenching and gulpable, without sacrificing its originality and personality. According to Wine Spectator: "This is aromatic, offering aromas and flavors of pine and peach, with hints of melon and quince. The light, spicy finish is fresh and crisp. Loureiro. Drink now.
The Story
Organic grape production.

Soil geology - Granitic in origin, deep, little organic material and has a slightly acidic reaction. 3. South - facing, gentle slope, 12 ha - 100% Loureiro.

Pruning of shoots, training the vines, mechanised trimming and leaf-stripping - These operations increase the potential of the Loureiro grape variety, in terms of the probable alcohol level and the enhancement of its aromas.

Grape picking - Exclusively carried out in 20kg cases and done in two waves. The first is to get rid of unhealthy and unripe bunches.

Fermentation at low temperature 10 - 15°C for between 12 and 15 days. Matured for between 3 and 6 months in a stainless steel wine vat at controlled temperature.

Before bottling the wine undergoes a sudden drop in temperature (-3°C), for stabilisation, in order words to avoid the later appearance of crystals. Afterwards it is filled under the protection of inert gasses in order to avoid any oxidisation.

A delicate and fresh wine, with a great emphasis on its fruity and floral nose. Excellent as an aperitif and a good accompaniment to meals. Fabulous with oriental cuisine.
The Specs
| | |
| --- | --- |
| Wine Type | White |
| Region | Lima, Vinho Verde, Portugal |
| Grapes | Loureiro |
| Vintage | 2009 |
| Alcohol % | 11.5 |
| Certified Organic | Yes |
| Closure | Cork (natural) |
| Volume | 750mL |
| Packaging | Glass Bottle |