Pig In The House Shiraz 2013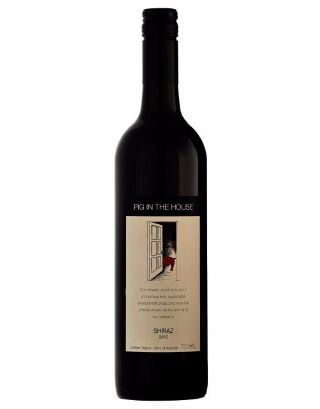 SOLD OUT
Certified Organic
Wild (Natural) Yeast Fermentation
The Pig In The House Shiraz 2013 is medium bodied (more Rhone style than the robust Aussie style) with a vibrant violet colour. The wine has aromas of cherries, plums and spice. Flavours of plums and white pepper are evident on the palate with a touch of vanillan oak giving an elegant structure to the wine.
The Story
GROWING SEASON: 2012-2013 vintage was a warmer than average in our region with very few large falls of rain occurring in the spring and summer. We experienced bud burst on the 16th of September which was followed by strong cane growth for the six weeks up to flowering. Conditions for flowering were ideal and we experienced an excellent fruit set. Veraison occurred in early January. The ripening period was extended due to climatic conditions which caused a better flavour ripeness to sugar accumulation.
WINEMAKING: Our goal with the winemaking for Pig In The House Shiraz is to capture the bright varietal characters usually evident around 13 Baume and we made the decision to harvest at 13.4 Baume when the seeds were ripe and the flavors at their most pure. The grapes were harvested, crushed ,de-stemmed and transferred to an open fermentor. The must was inoculated with RX60 yeast and fermentation temperature took place at 22 degrees. Post ferment maturation occurred in oak and stainless steel vessels. Final blending occurred after 5 month maturation. We aim to express the organic vineyard as much as possible, to provide purity of organic production. The wine was fined with egg whites (from our own free range chickens) settled and cleaned up for bottling in November.
Pig in The House wines are grown and made in Cowra New South Wales. We believe that our organic farming practices produce wines which are unique to our region. We planted vineyard in the mid 1990s on land which was once a free-range piggery; so free that the pigs were often in the house. The locals still ask whether the pig is still in the house. Most of the time the answer is no.
The Specs
| | |
| --- | --- |
| Wine Type | Red |
| Region | Cowra, NSW |
| Grapes | Shiraz |
| Vintage | 2013 |
| Alcohol % | 13.5 |
| Certified Organic | Yes |
| Closure | Screwcap |
| Volume | 750mL |
| Packaging | Glass Bottle |