Paxton The Guesser Red 2013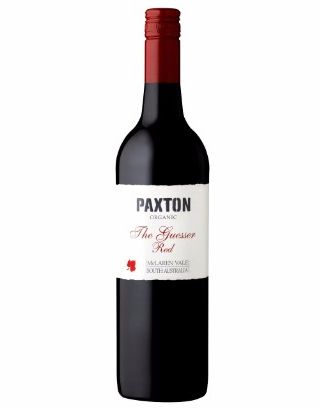 SOLD OUT
Tempranillo has been added to the mix for the 2013 Paxton The Guesser Red, and it adds to the drinkability of this wine which has always represented fantastic value. Vibrant aromas of red raspberry fruit and some floral notes with an earthy edge. The palate is soft and approachable with plums & spice, a hint of vanilla oak and very subtle tannins. Well balanced and enjoyable.
VARIETY: 37% Shiraz, 32% Tempranillo, 31% Cabernet Sauvignon
CERTIFIED BIODYNAMIC. Paxton are a Halliday 5 star rated winery.
The Story
David Paxton believes that the people who apply the art and science of viticulture are just as important as the winemaker in the making of good wines. That's why for three decades the Paxtons have nurtured their prized vineyards, some of which were first planted in the 1890s. Our aim is to showcase the intensity of fruit grown biodynamically.

THE GUESSER: The Paxton Guesser Shiraz Cabernet has been named in recognition of David's days working in shearing sheds in country Australia. The guesser's job is to sort, clean and class the fleece of each shorn sheep.

VARIETY: 37% Shiraz, 32% Tempranillo, 31% Cabernet Sauvignon
COLOUR: Vibrant red
ALCOHOL: 14%
BOUQUET: Fruit driven with hints of mint, spice and plums
PALATE: Very soft and subtle, packed full of flavour and fruit. Easy drinking for all occasions
CELLARING: Drink now, or cellar for 5-8 years
VINTAGE: 2013 harvest was characterised by small crops of early ripening, full flavoured fruit. One of our earliest harvests in recent times, 2013 was fantastic due to great natural balance and ripeness at relatively low sugar levels.
VINIFICATION: Selected batches of Shiraz, Tempranillo and Cabernet Sauvignon were fermented and aged separately in small French and American oak barriques. They were blended to achieve a fruit-filled wine, expressing a nose of Cabernet Sauvignon, mid palate of Shiraz and finish of Tempranillo.
The Specs
| | |
| --- | --- |
| Wine Type | Red |
| Region | McLaren Vale, SA |
| Grapes | Shiraz |
| Grapes | Tempranillo |
| Grapes | Cabernet Sauvignon |
| Vintage | 2013 |
| Alcohol % | 14.0 |
| Certified Biodynamic | Yes |
| Wine Style | Fruity |
| Wine Style | Soft |
| Closure | Screwcap |