Paxton Rosé 2014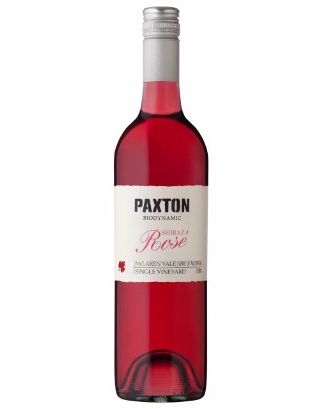 SOLD OUT
Certified Biodynamic
Vegan Suitable
Michelle says:
"This wine takes me away to a lazy spring day with its potpourri of strawberry and turkish delight flavours. Drink it with an antipasto platter and enjoy, for today is all we have."
Vibrant pink with aromas of ripe red berries, turkish delight and citrus notes. The palate is medium in weight and shows a lovely balance, with refreshing strawberry and cream flavours and a savoury edge. It finishes with a zing and beckons you to take another sip.
The Story
David Paxton believes that the people who apply the art and science of viticulture are just as important as the winemaker in the making of good wines. That's why for three decades the Paxtons have nurtured their prized vineyards – some over 100 years old – in McLaren Vale, South Australia. It's this level of care and passion for the region that has produced extraordinary fruit and wines.

"Our aim is to showcase the intensity of fruit grown biodynamically, and to champion the cause for wider adoption of sustainable farming methods."

2014 Paxton Rose Tasting Notes:
VARIETY: 100% Shiraz
COLOUR: Vibrant Rose Pink
ALCOHOL: 12.5%
BOUQUET: Fragrant, fresh red berry and rosewater with a hint of citrus
PALATE: Medium weight and fruit driven, displaying refreshing red berry, and strawberry and cream flavours. The fruit is
beautifully balanced with fresh zing and savoury notes - finishing dry and leaving your mouth singing for more
CELLARING: Not necessary, the wine should be enjoyed while it is fresh and young.

VINTAGE: 2014 was a dry growing season - a cool and windy spring resulted in slightly reduced yields. A warm February induced high rates of ripening, and was balanced by a well needed 2 inches of rain. The rain slowed ripening, and perfectly mild conditions allowed fabulous flavour development during the ensuing weeks. A great year for reds and whites in McLaren Vale!

VINIFICATION: Made from 100% Shiraz grown specifically for this Rosé. The fruit was crushed to a press, where it stayed in contact with the skins for 12 hours. After pressing, the wine was settled and fermented like a white wine, at cool temperatures. Approximately 5% was fermented in new French oak barrels. It was filtered and bottled early in its life to capture the freshness of Shiraz Rosé.
The Specs
| | |
| --- | --- |
| Wine Type | Rose |
| Region | McLaren Vale, SA |
| Grapes | Shiraz |
| Vintage | 2014 |
| Alcohol % | 12.5 |
| Certified Biodynamic | Yes |
| Vegan Suitable | Yes |
| Wine Style | Aromatic |
| Wine Style | Zesty |
| Closure | Screwcap |
| Volume | 750mL |
| Packaging | Glass Bottle |
| Cellaring | Drink now and enjoy, all we have is today! |