Paxton Pinot Gris 2014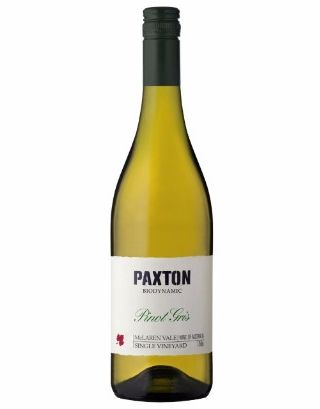 SOLD OUT
Pale straw in colour with copper highlights, the 2014 Paxton Pinot Gris has a lovely bouquet of apple and pear with a touch of citrus zest. The texture on the palate is delightfully mouth-filling with a burst of vibrant fresh fruit.
CELLARING: While made to enjoyed as a young wine, some amazing secondary characters will be the reward for short term cellaring of 2-3 years
VARIETY 100% Pinot Gris
BIODYNAMIC
The Story
David Paxton believes that the people who apply the art and science of viticulture are just as important as the winemaker in the making of good wines. That's why for three decades the Paxtons have nurtured their prized vineyards, some of which were first planted in the 1890s. Our aim is to showcase the intensity of fruit grown biodynamically.

The fruit for the Paxton Pinot Gris is sourced from the 'Thomas Block', this wine displays fruit freshness and structure, highlighting the suitability of this site for the production of premium white varieties.

VINIFICATION:The fruit was harvested when ripe, and the juice was gently pressed away from skins, seeds and stalks. After minimal settling, the juice was taken from the grape solids on the bottom of the tank and fermented at temperatures between 15-18°C in stainless steel to encapsulate fruit freshness. Once fermented, the wine lees were regularly mixed into suspension for a six week period with the aim of building complexity and texture into the wine. The wine was filtered and bottled early in its life to capture the freshness of the variety. 60% wild fermentation adds complexity, weight and texture to the finished wine.

VINTAGE: 2014 was a dry growing season - a cool and windy spring resulted in slightly reduced yields. A warm February induced high rates of ripening, and was balanced by a well needed two inches of rain. The rain slowed ripening followed by perfectly mild conditions allowed fabulous flavor development during the ensuing weeks. A great year for both reds and whites in McLaren Vale!
The Specs
| | |
| --- | --- |
| Wine Type | White |
| Region | McLaren Vale, SA |
| Grapes | Pinot Gris |
| Vintage | 2014 |
| Alcohol % | 13 |
| Certified Biodynamic | Yes |
| Wine Style | Zesty |
| Wine Style | Fresh |
| Closure | Screwcap |