Ngeringa J.E Assemblage White 2011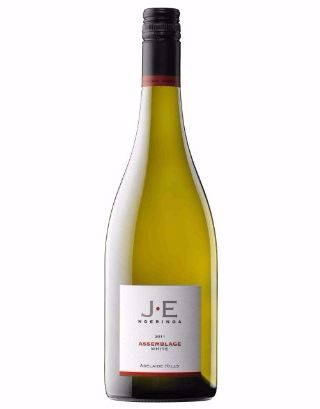 SOLD OUT
Certified Biodynamic
Vegan Suitable
Open, enticing stone fruit and brioche aromatics introduce this fresh, bright wine against the floral lift of jasmine and lavender. The palate is the clean and tightly composed flavours of green tea and the exotic hint of guavas. From a vintage that spotlights the tight minerality of our chardonnay, this attractive wine has good length and is balanced by the buttery, toasted warmth of viognier.
The Story
The J.E range is dedicated to fruit from our own Ngeringa vineyards. Being a small winery and yet being painstakingly particular with the quality of our fruit and final wine batches, we find ourselves with the dilemma of a barrel or two each year being stubborn outsiders to the style we aim to bottle under our NGERINGA label. And so we have some fun assembling our J.E wines.

While wines in our NGERINGA range are single vineyard, our J.E range wines are 'assemblies' taken from our three vineyards. J.E Assemblage is a blend of Chardonnay and Viognier. Our leaner Chardonnay from the cooler and lower parts of the Summit Vineyard gives the wine its acidity while the Viognier offers beautiful body and expressive aromatics, ranging from stone fruits to musk to more exotic tropical fruits. Like all our whites, the deep texture is always a distinctive feature.

VINTAGE: The 2011 growing season was marked across the Adelaide Hills region by heavy rains and subsequently high disease pressure. NGERINGA was fortunate to weather the difficulties well with reduced yields but lovely fruit displaying characteristic cool-climate textures and flavours. Winter 2010 set in early and cold with frequent, drenching rains filling dams and delaying the onset of the growing season. Spring and early summer remained uncommonly cool, punctuated by periods of rain requiring prudent canopy management and yield reduction. The summer heat was all but non-existent other than a brief spell towards the end of January. Instead, days were often sunny but frequently no more than warm, with the evenings consistently cool. Ripening maintained a slow, steady pace resulting in harvest being set back by nearly a month. In the end, the wines of this difficult vintage are a testament to the hardiness of the vines: textural, tight, racy and aromatic. Our vigilance was rewarded.

WINEMAKING: This year's blend is comprised of 78% Chardonnay and 22% Viognier. Both varieties individually fermented in all older French oak barrels. 100% malolactic fermentation. Bottled after 14 months..



MIKE BENNIE www.winefront.com.au 1 May 2012 Spicy, roasted nut aromas with bread dough, then stone fruits and florals chiming in. Rich, heady kind of perfume and very savoury. The freshness of acidity is marked – there's richness and fleshy texture, but it's all given life by brisk, saline acidity. Fresh fruitiness sits underneath the creamy, spicy mainframe of fruit – it's an exciting wine to drink, alive, and bristling with textural personality. It is a lot about the texture, indeed. 91 points.
The Specs
| | |
| --- | --- |
| Wine Type | White |
| Grapes | Chardonnay |
| Grapes | Viognier |
| Vintage | 2011 |
| Alcohol % | |
| Certified Biodynamic | Yes |
| Vegan Suitable | Yes |
| Wild Yeast Fermentation | Yes |
| Closure | Screwcap |
| Volume | 750mL |
| Packaging | Glass Bottle |