Lucy Margaux Wildman Pinot Noir 2016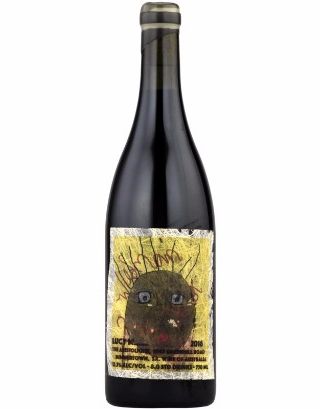 SOLD OUT
Vegan Suitable
No Added Preservative (Preservative Free)
This is a natural wine, so be prepared to have your taste buds and preconceptions of what wine should taste like challenged.
From Norton Summit this is a neglected vineyard (transition to Organic/neglect since2013). Tiny feral bunches dot the landscape of pinot jungle. A bitch to pick and the whole bunches are discarded in large vats and left to rot under the cosmos for months. This wild juice is pressed into 2000L barrels and syphoned to bottle. It is un-manicured, un-tamed (like the wild men of basket range), but he is soft and gentle.
The Story
This is a natual wine, so be prepared to have your taste buds and perceptions of what wine should taste like challenged
Domaine Lucci and Lucy Margaux, names that are being whispered by those in the know about Natural Wines, or wines which are just that little bit different. Anton van Klopper and his wife Sally are the names behind the name. Living in a tiny enclave known as The Basket Range in South Australia this lucky family is surrounded by like-minded, progressive wine makers who are happily experimenting with new, or ancient, techniques in search of the magical elixir that is Natural Wine. But far from being a bunch of 'fly by the seat of your tie-dye pants' hippy types, there is a lot of intellectual firepower and experience behind these wine makers.
Anton's wines are a number of things; exciting, challenging, interesting, surprising and delicious to name just a few. Each vintage, each bottle even, have their own special quirks and idiosyncrasies, which is what makes this kind of wine production so special, something definitely worth sitting up and taking notice of. By pushing the boundaries of traditional wine making, Anton and his band of merry wine-making men in the Basket Range (James Erskine, Tom Shobbrook, and Sam Hughes) all living in just down the road from one another, have formed a movement they have called Natural Selection Theory, where wine making knows no bounds, and together they are working tirelessly to change the face of wines as they are perceived by most.
The Specs
| | |
| --- | --- |
| Wine Type | Red |
| Region | Adelaide Hills, SA |
| Grapes | Pinot Noir |
| Vintage | 2016 |
| Alcohol % | 13.5 |
| No Added Preservative | Yes |
| Vegan Suitable | Yes |
| Natural Wine | Yes |
| Closure | Cork (natural) |
| Volume | 750mL |
| Packaging | Glass Bottle |