Kalleske Moppa Shiraz 2014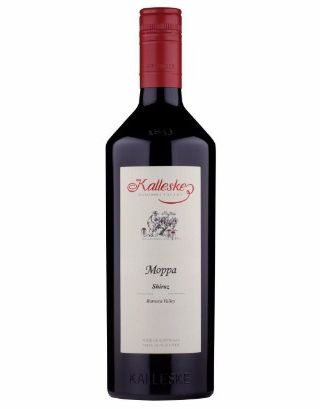 SOLD OUT
Certified Organic
Certified Biodynamic
Vegan Suitable
Wild (Natural) Yeast Fermentation
Michelle says
The Kalleske Moppa Shiraz is a standout Barossa Shiraz by any standards. The Kalleske wines just get better with each vintage. This wine will impress and price-wise it is great value, comparing easily with $35+ bottles. Oh and it's biodynamic.
Moppa 2014 is inky purple in colour. It's alive with scent, displaying attractive aromatics of fruit cake, chocolate, flowers, dried herbs, musk, vanilla custard and cinnamon spice. The palate is full-bodied and initially greets you with juicy red-black fruits followed by toasty hazel-nutty oak and chocolate. The tannin profile is superb, fine grained but fleshy adding texture and definition.
Well structured, this is a complex and well balanced wine with fruit at the fore but background oak in support. Generous in flavour, it's completed by a very lengthy finish. Moppa 2014 is an expressive Shiraz that can be enjoyed now or will cellar well in the medium to long term.
The Story
In 1853 our Kalleske farm and vineyard was established at Moppa, a small sub-district of Greenock in the Barossa's North-West. The Moppa district was a flourishing settlement of pioneering farming families and gold miners. There were few schools in the region, local parents established the Moppa Public School in 1873 to give their children a formal education. Located on our Kalleske property, generations of the Kalleske family attended this school until its closure in 1935. Sourced entirely from our Kalleske Moppa vineyard, a trace of Viognier and Petit Verdot has been added to this Shiraz giving it a contemporary edge. This is a genuine hand made wine that's been grown, vintaged and matured on our Kalleske estate at Greenock in the North-Western Barossa.

VINTAGE: Vintage 2014 was an excellent year. The wines from 2014 are strong with deep and vibrant colour, excellent fruit definition and solid but integrated tannin structure ensuring longevity for the wines. The 2014 growing season began with slightly above average Winter rainfall however Spring and early Summer were very dry with 40% less rain than normal. Temperatures were also up with the Spring/Summer growing season being an average of 2 degrees C warmer. However, this dry and warm season changed dramatically in mid February with 100mm of rain falling, the wettest February day in 45 years. This slowed the ripening of the grapes considerably and combined with average mild temperatures in March (25.7 degrees C) a steady ripening of the grapes ensued. This ensured good flavour and moderate sugar development producing outstanding quality.

VINEYARD: Moppa is predominantly Shiraz with a trace of Petit Verdot (10%) and Viognier (5%) blended in for added complexity. Grapes are from ten different blocks on the Kalleske's organic farm, with the oldest of these blocks planted in 1961. The vines are low-yielding and are grown in shallow, sandy loam soil over superb deep red clay, providing ideal conditions for these varieties.

WINEMAKING: The Shiraz was harvested in numerous batches from February 18th to March 6th. The Viognier was harvested on February 25th and co-fermented with a portion of Shiraz. The Petit Verdot is a late ripener and was harvested on April 10th. All batches were wild fermented in open top fermenters with hand pumpovers twice a day during fermentation. After 7 to 14 days on skins the fermented grapes were traditionally pressed. The wine was aged in hogshead barrels for sixteen months. Approximately 25% new French, American, Hungarian and Russian oak was used with the balance seasoned barrels. On completion of maturation, a small portion of Petit Verdot and Shiraz/Viognier was blended for added complexity.
CURRENT VINTAGE AWARDS, REVIEWS & ACCOLADES
New Release
PREVIOUS VINTAGES - AWARDS, REVIEWS & ACCOLADES
2013 Vintage - Gold Medal - 2014 China Wine & Spirits Awards
2013 Vintage - Gary Walsh www.winefront.com.au - Cute proprietary bottles, a la Rockford. Contains 5% Viognier and 10% Petit Verdot, so you can still call it just 'Shiraz' on the front label. On the back label, perhaps, "trace elements of Viognier may remain." Black fruit with tar, chocolate and a perfumed top note. Full bodied, smooth with plenty of fine grained open tannin, fleshy feel, chocolate and roses with some salted beef coming through on the finish. Plenty of wine here. Hard to imagine fanciers of bold Barossa Shiraz not being happy with this wine.
Rated : 92 Points
Tasted : Aug14
Alcohol : 14,5%
Price : $28
Closure : Screwcap
Drink : 2014 - 2020+



" Sub-regional (north-west) Barossa shiraz, biodynamically grown... Excellent vitality and drinkability. Blackberries, cranberries, sap and smoke. Has that ashen, meaty note so characteristic of cool vintages like 2002 and 2011. Has enough sweetness though to keep Barossa shiraz drinkers happy. Enough slurpy, smooth texture. Clovey, peppery, licoricey finish. Compact and complex. Great wine to hook into". Drink:2012 – 2017" winefront.com.au November 2012




New Zealand International Wine Show 2012.



Blue-Gold Award: Sydney International Wine Competition 2013


The Specs
| | |
| --- | --- |
| Wine Type | Red |
| Region | Barossa, SA |
| Grapes | Shiraz |
| Vintage | 2014 |
| Certified Organic | Yes |
| Certified Biodynamic | Yes |
| Vegan Suitable | Yes |
| Closure | Screwcap |
| Volume | 750mL |
| Packaging | Glass Bottle |