Hochkirch 2003 Riesling wins!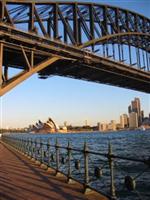 Sydney gave us fabulous weather for the first Organic Expo, held at the Exhibition Buildings in Darling Harbour on July 30th and 31st. The sun was out and spring was in the air, and hundreds of people turned out to see the wide range of organic products and services available and to learn from many different demonstrators and speakers over the course of the weekend.

On Friday evening to celebrate the opening of the expo, a cocktail party was held for the exhibitors and press. During the evening, the Australia / New Zealand Organic Wine Show 2005 results were announced, including the Gil Wahlquist Trophy winner, our very own Hochkirch 2003 Riesling. Other Silver Medallists were the Kalleske 2004 Clarry's Barossa Red, Robinvale Wines 2002 Demeter Kerner and Settlers Ridge Organic Wines 2005 Sauvignon Blanc. In addition 26 Bronze medals were awarded. Twenty-eight biodynamic and organic wineries entered a total of 96 wines, and all entrants are to be congratulated.
Saturday and Sunday was the chance for the general public to investigate not only the organic wine in the "Organic Vineyard" which Organic Wine was proud to sponsor, but also cheeses, chocolate, juices, popcorn, and many other foodstuffs, clothes, beauty products, books, magazines, and so many other things – you should have been there!