Champagne Lanson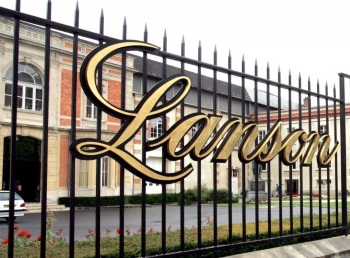 Champagne Lanson is located in Reims and is the ninith largest Champagne house in the world. Since 2006 it has been owned by Lanson-BCC group headed by Bruno Paillard. Lanson was founded in 1760 by a magistrate, François Delamotte. He was succeeded by his son Nicholas-Louis in 1798 and formed a partnership with Jean-Baptiste Lanson, who, in 1837, gave the company the name of Lanson et Cie. The company focused, as still today, on exporting champagne to foreign markets. By the late 19th century, Lanson was supplying champagne by royal appointment to the courts of the United Kingdom, Sweden and Spain. Lanson remains a purveyor of champagne to the British Royal Family and displays the coat of arms of Elizabeth II on its bottles.
Since acquiring 13ha of biodynamic from Leclerc Briant in 2010, Lanson has used 8ha of the plot to produce an organic base wine, before deciding to create an organic non-vintage Champagne using the 2012 base wine. The organic Champagne is being made in the Lanson style, which means that the base wine will not undergo malolactic fermentation, and hence the decision to age the Green Label for more than three years on its lees in the Lanson cellars – the long maturation period offsets the high level of malic acid in the Champagne.
---
This category is empty! Please try another category or use our search function to find what you are looking for. If you require further assistance please contact us.