Champagne Francoise Bedel Entre Ciel et Terre NV Brut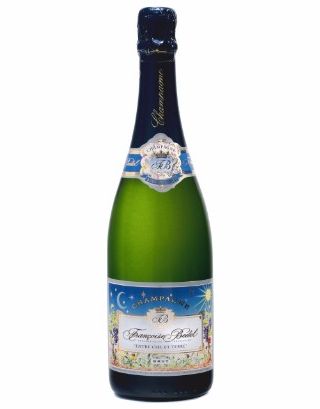 SOLD OUT
Certified Organic
Certified Biodynamic
Wild (Natural) Yeast Fermentation
The name translates to between sky and earth. This is a champagne to be savoured.
Michelle says:
Light golden colour with a creamy mousse and generous nose, smells of ripe autumn fruit, baked apples, nuts, cinnamon and some toasty notes. Good grip on the palate, feels rather bone dry and mouth-watering, with rich opulent fruit and a nice creamy texture. Some spice and nutty notes on the finish, well balanced with a fine persistence and freshness.
Superb!
The Story
Fermented in tank with indigenous yeast and aged partially in barrel sur lees for a minimum 7 years. Always zero dosage and a wonderful expression of Pinot Meunier minerality.
Tasting
Visual impression : Wonderfull effervescence with very fine bubbles, although the bead is evanescent. Bright and brilliant gold in colour, it has cristalline limpidity.
Nose : The nose is fresh and reminiscent of white flowers (hawthorn, acacia). After agitation, it reveals very delicate aromas of floral-flavoured honey and spice bread.
Palate : A champagne with a crisp initial impact on the palate, giving way to rich and generous floral notes, enhanced by a touch of liquorice. The dosage is understated and perfectly integrated, thus allowing the true essence of the wine to come to the fore. This finish is exuberant with a freshness accentuated by citrus aromas (lemon and grapefruit).
HARVEST: 2005
AGE OF THE VINES: 20-60 years
TERROIRS: Limon and Marno (in limestone)
BOTTLING: May 2006
DISGORGING: From August 2012
TIME ON LEES: 7 years
WINEMAKING: Enamelled tanks and oak casks(10%)
DOSAGE: Brut (6g/L)
The Wine Advocate
Rating: 93 (11/30/2013)
Exhibit A in the case for Bedel and her obscure terroir must be a NV Brut Entre Ciel et Terre EB041012, which places Meunier in something more like its usual supporting role, letting Chardonnay and Pinot step forward. Jasmine, green tea, lime, grapefruit, and white currant inform a brightly penetrating yet subtly perfumed nose, whose elements are joined on a palpably lees-enriched yet vivacious and consummately refreshing palate by nut oils, smoky toasted grain and saliva-liberating salinity. A subtle sense of textural oiliness reinforces the nut and citrus oil aspects but without deflecting any of this wine's effusive juiciness or dimming the invigorating tang incorporated in a mouthwateringly long finish tinged with iodine.
The Specs
| | |
| --- | --- |
| Wine Type | Champagne & Sparkling |
| Region | Champagne, France |
| Grapes | Pinot Meunier |
| Grapes | Chardonnay |
| Grapes | Pinot Noir |
| Vintage | Non Vintage |
| Alcohol % | 12 |
| Certified Biodynamic | Yes |
| Certified Organic | Yes |
| Wild Yeast Fermentation | Yes |
| Closure | Cork (natural) |
| Volume | 750mL |
| Packaging | Glass Bottle |