Angove Organic Chardonnay 2014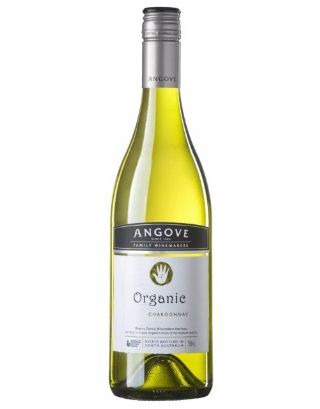 SOLD OUT
Certified Organic
Vegan Suitable
Wild (Natural) Yeast Fermentation
Winery/Brand: Angove
Aromas of peach and lemon with a hint of vanilla. The palate has a bit more of a tropical fruit character and citrus, crisp acid and a nutty complexity on the finish. Good for a mid-week quaffer or Sunday night roast chicken.
The Story
Specially selected Organic certified vineyards in the Riverland and McLaren Vale of South Australia lend their fruit to this wine. Exceptional organic husbandry has produced ripe flavoursome fruit.
VINEYARD
Angove Organic Chardonnay is sourced from organically certified vineyards in the Riverland and McLaren Vale regions of South Australia. Vintage 2014 in the heartland of the Australian wine industry came with a rush after a cool Spring meant many varieties were slow to get started in their growing. As the weather warmed through January and February it all started happening and careful attention in the vineyard was needed to ensure picking occurred at peak flavour ripeness.
WINEMAKING
Picked late at night to harvest the grapes as cold as possible the grapes were transported to the winery and pressed using modern membrane tank presses. After cold settling the clear juice was carefully racked to cooled fermentation tanks and inoculated with selected yeasts. Cool fermentation was followed by minimal handling filtration and bottling at the Angove winery.
THE KEY REPORT - TONY KEYS - 30.05.15 - 92 POINTS
"It's clean, fresh and enjoyable it's also organic which will attract a lot of people so is good for the planet."
MOUNT BARKER COURIER - ROSS NOBLE - 13.05.15
"The Organic Chardonnay 2014 has white peach aromas and flavours with a touch of lemon and a hint of nutty oak."
CIAO MAGAZINE - WINSOR DOBBIN - 08.05.15
"This is a very modern chardonnay, lean but with plenty of varietal flavour (think stone fruit and a touch of citrus), with a crisp, acid finish. Good drinking at a great price."
QWINE - STEVE - 10.04.15
"A whiff of yellow peach flesh is followed by slight vanilla, white peach and apricot kernel flavours. A dab of citrus and a slight almond meal type finish wraps it up. The length hangs on nicely too."
The Specs
| | |
| --- | --- |
| Wine Type | White |
| Region | South Australia |
| Grapes | Chardonnay |
| Vintage | 2014 |
| Alcohol % | 13.5 |
| Certified Organic | Yes |
| Vegan Suitable | Yes |
| Closure | Screwcap |
| Volume | 750mL |
| Packaging | Glass Bottle |