Switch Organic Wine
You don't get much information about Switch Wines when surfing the 'net. First glance at their website reveals that they are NASAA Certified Organic and have an eye for design - their labels are certainly thought provoking and snappy. They are relatively new on the scene, but produce a small batch of pretty sensational wine using an eclectic mix of wine varietal from a range of regions.
Vanessa Altmann is the woman behind Switch and I've had the pleasure of meeting Vanessa on several occasions. She began her wine making adventure with Temple Bruer Wines 14 years ago at the tender age of 19. While completing her Bachelor of Applied Wine Science, Vanessa started at the bottom as an assistant, steadily climbing the proverbial ladder to reach the coveted status of 'Wine Maker'. As a young wine maker, she has received numerous awards and nominations in recognition of her extraordinary talents with the fermented grape. She certainly knows what she's on about when it comes to making something taste good. Switch is Vanessa's baby, and is being noticed around the place as a label that has some innovative ideas when it comes to production and marketing. When talking about her new venture Vanessa says "It's exciting because I get to take more risks with the Switch label."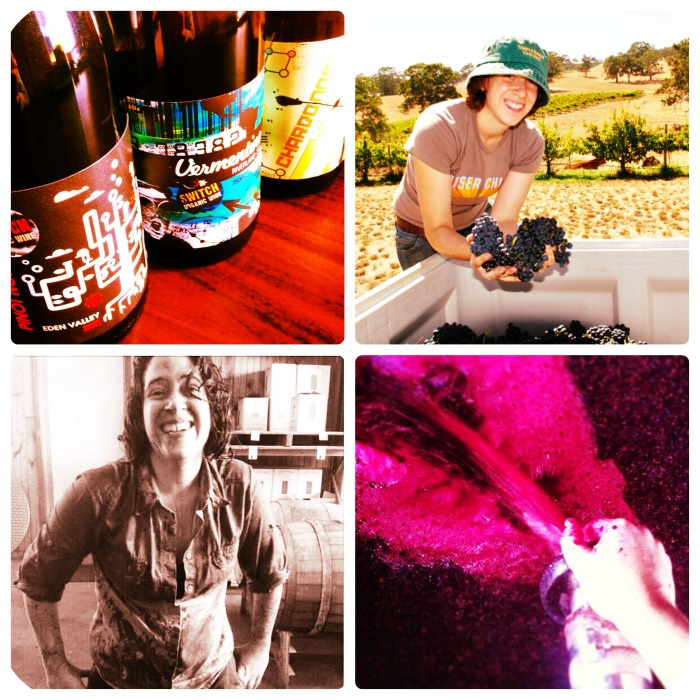 Vanessa is super hands on when it comes to producing these delicious wines. She is excited by grapes (to say the least) and heads out to McLaren Vale, Currency Creek, the Riverland and Eden Valley searching out interesting regions and different styles. She is happy to discuss some of the techniques she uses to get the best results; 'My personal favourite, cold soaking at low temperatures for several days before fermentation to assist with aroma extraction and in fleshing out the palate to create a plump mouth-feel.' We hear you Vanessa, and we like it!
Switch Wine is the product of Vanessa Altmann's commitment to creating wines which prompt people to think about the way we as a society are consumers. She lives her life according to the core values of caring for the environment. She is a massive advocate of the organic produce industry, with a focus on eating organic food as well as drinking organic wine. She says this "…is probably why I find this kind of work so satisfying - working in an organic winery… It's all about creating unique mixes of variety and region that are certified organic and styled with labels that prompt conversation, instigate thought and reignite connections to the world we live in. For both the maker and the drinker."
We here at Organic Wine are happy to have Vanessa on the scene. Really, the world can't have enough winemakers with a conscience and commitment to sustainability and responsible living, eating and drinking.
---
This category is empty! Please try another category or use our search function to find what you are looking for. If you require further assistance please contact us.