Organic One
The Bonic family has been producing wine for many generations in Australia and Croatia. Their special knowledge arrived on Australian soil with Jure and Eve Bonic in 1960. Beginning their new lives in Sydney, they worked hard and saved in the city because their dream was to build a vineyard.
When they found Jerilderie, about 600km south-west of Sydney, 10 years later their dream was realised. Jure noted that the grazing cattle were healthy and vibrant and just as importantly, the vegetables grown in the region were more sweet and flavoured because of the mineral-rich soil. Eve loved the proximity of Billabong Creek – Australia's longest creek.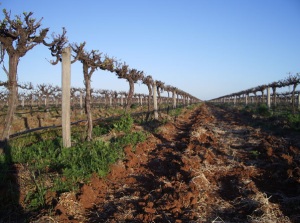 The dry climate and long sunny days were also appealing. Organic One was to become one of Australia's first organic vineyards. The Bonic family were pioneers in organic wine-making and that heritage has been honoured and taken to new levels by their sons John and Frank.
Now, the second Bonic generation has created a high-tech winery producing ultra premium wine that is not only pure in flavour. Its special vibrance nourishes the body and uplifts the spirit.
FRANK BONIC – DIRECTOR & VIGNERON, ORGANIC ONE WINES
Frank Bonic is a pioneer of ultra premium wines. He is exacting in his craft and has a singular approach to wine-making that is based on both an instinctive and well-researched understanding. He has an innate gift with plants which may seem eccentric to some but to most, it is the most natural thing in the world to work with, rather than against plants. He `feels' what they need for nourishment and protection and with each passing year those needs are not only met, they are enhanced.
Introduced to wine-making as a child by his parents, he went on to develop and refine his craft in Australia and around the world.
After gaining a Wine Science degree at Charles Sturt University he worked for three years as a winemaker at Miranda Wines and Brown Brothers in Australia. But he wanted to further his experience by working on vineyards in France, Italy, Spain and Argentina. He then went to Grgich Hills in the Napa Valley, California which converted to a biodynamic vineyard after his visit.
His dedication, inspired vision and passion has set him apart as a wine-maker and those same qualities filter through to his outstanding wine.
A Taste of Nature in Every Glass
SOIL IS THE START OF GREAT WINE.
At Organic One the soil is a living, breathing home to the vines.
It is rich in microbes because it is not damaged by any foreign chemicals. A special biodynamic compost helps the earth generate its own minerals, microbes and nutrients that are essential for highly flavoured grapes.
All life forms are honoured here as animals and plants share the land.
The 112 ha vineyard and a 9ha wildlife sanctuary makes it a type of natural playground for the birds, kangaroos, goats, sheep, hares, cows and insects. It is a place where the vines can thrive. In France it is known as terroir, or sense of place, where geography bestows special taste characteristics upon grape varieties.
After harvest, sheep are brought into the vineyard to eat the wild grass and rub against the vines, multiplying the microbes and returning them to the soil to keep it alive and fertile. Grazing animals also help to boost the vines' immunity so they are naturally resilient and do not need preservatives.
Planting and harvesting is also done in rhythm with the moon's cycles. As the plants grow wild among the vines they act as an alternative to prey for the vines and bring in additional nitrogen from the atmosphere. The wild growth is cut back, becomes part of the compost and the cycle of growth and regeneration continues.
The wine is produced from this living community where life gives life and the cycle of abundance is ever-flowing.
---