Freehand Rosé 2013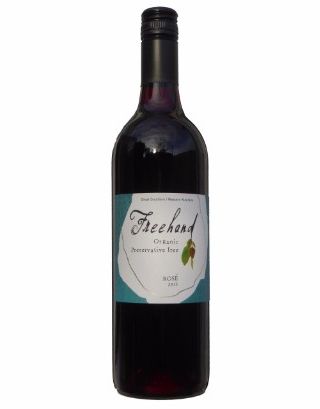 SOLD OUT
Vegan Suitable
No Added Preservative (Preservative Free)
This is a dark cherry red rose, verging on a light red. Aromas of cherry and strawberry, the palate is zesty maraschino cherry with a savoury edge and a touch of bitter grip. Will pair well with food at a summer BBQ.
PRESERVATIVE FREE
ORGANIC & BIODYNAMIC PRACTICES SINCE 2008
The Story
Tasting Notes from the winery:
Colour: Deep Strawberry hues
Aroma: Aromas of Raspberries, Black currents, Strawberries and Cream
Taste: Red and black-currents, new season Plums with Red Toffee-Apple-Candy fruit sweetness with refreshing Tamarillo tartness to finish
Background: The Freehand 2013 Rose is a dry (not sweet), light red. Barrel aged on lees for 12 months in French and American oak Hogshead barrels. The juice was left on skins for only 6 hours to extract ample colour and flavour without extracting tannins from the skins. Skin contact and barrel maturation are usually avoided when making a conventional Rose. Not a Freehand one. The Freehand Rose has a deep hue, with genuine flavour and aromas to match! More skin contact for more character. The 2013 Freehand Rose is a truly unique wine. Zero Sulphites added in the winery. Organic and Biodynamic in the vineyard. A versatile ROSE that drinks well both chilled or at room temperature.
Freehand wines are created using organic/biodynamic grapes; grown with maximum attention, vinified with minimal intervention and no preservatives are added. The vineyard is not certified although the Eastwell family have been practicing organic/biodynamic principles since 2008.
The Specs
| | |
| --- | --- |
| Wine Type | Rose |
| Region | Great Southern, WA |
| Vintage | 2013 |
| Alcohol % | 13.5 |
| No Added Preservative | Yes |
| Vegan Suitable | Yes |
| Natural Wine | Yes |
| Natural Wine | Yes |
| Closure | Screwcap |
| Volume | 750mL |
| Packaging | Glass Bottle |