Champagne Francoise Bedel
Champagne Françoise BEDEL & Fils is a family estate from the Marne Valley. You can find it at Crouttes-sur-Marne, a pretty village on the edge of the Champagne region.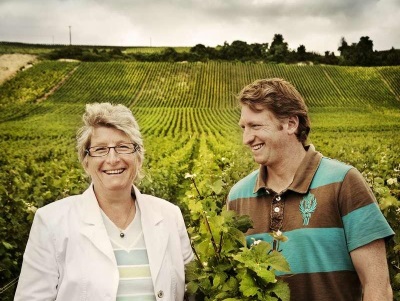 The vineyard's parcels are spread in the banks of the Marne river, over four areas : Nanteuil-Sur- Marne, Charly-Sur-Marne, and Villiers-Saint-Denis.
Champagne Françoise BEDEL & Fils has been producing a selection of champagnes with a vast palette of qualities for last three generations.
Fernand and Marie-Louise BEDEL are the first generation of winemakers. Françoise BEDEL started to manage a part of the estate in 1979. Vincent, the son of Françoise, joined the family vineyard in 2003.
Françoise and Vincent are dedicated to the Champagne wine that personifes the terroir and "tastes from where it comes from".
One of their secrets lies in the use of an ancestral technique: the "Biodynamic Agriculture". With its subtle influence and effect, the biodynamic wine-growing gives back to each champagne its terroir's own specific character.
Françoise Bedel, one of the stars of the Champagne biodynamic movement, has become one of the biggest proponents of the Pinot Meunier varietal.
In the 1990's she began the conversion to organic and then biodynamic agriculture. She prepares her own treatments and remains one of the leaders of this movement in Champagne. Every part of the harvest is performed by hand in small baskets. No cultured yeast is used and Francoise insists that the wild yeast present in the vineyard add to the character. The wines pass into oak barrels before being bottled and are given a very light dosage.
Her south and southeast facing vineyards are worked year round by her son Vincent and not a drop of non-organic treatments have been used on the vines since 1997.
The wines rest in bottle for an extremely long time. The entry level wine doesn't leave the cave until 5 years after harvest—this is for a non-vintage! One of the biggest proponents of the Pinot Meunier grape, Françoise 's holdings are primarily made up of this varietal now and it features highly in her bottlings.
---
This category is empty! Please try another category or use our search function to find what you are looking for. If you require further assistance please contact us.