Brogsitter
If you're sitting in Australia, the name Brogsitter might elicit a giggle from you and your mates. I know that when first tasting their wine with friends we sat around making all sorts of new and interesting derivations… frog and bog got thrown about a bit, but honestly, after tasting wine 'socially', this was about as cleanly creative as we got. I digress… If you were from Germany it would be a different matter. A household name since the year 1600, Brogsitter is definitely no laughing matter.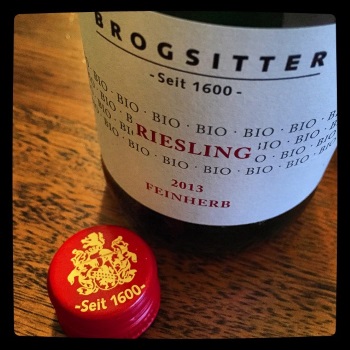 Initially starting out as viticulturists, growing and tending vines and grapes in Early Modern Germany until 240 years later they decided to shake things up by becoming exporters of German wines as well. Today, still a privately owned family business (staunchly refusing to be listed on the stock exchange in order to retain their heritage and history), Brogsitter is a modern, sophisticated and cutting edge corporate group. In spite of this polished sophistication, Hans-Joachim Brogsitter (head of the corporation), ensures that traditional wine making techniques continue to be employed. I mean really, if it ain't broke, don't fix it!
Nestled in the wine growing region of Ahr – Rhineland, the Brogsitter family owns one of the oldest wine estates in Germany. The Kloster Marienthal, which was originally an Augustinian convent winery. The nuns of the order first established the terrace-vineyard cultivation method on the steeply rising slopes of the Ahr Valley. These vineyards produce grapes, and hence wines, of the highest quality. The soil in the region is slate and loess, so think mineral crispness in a white wine.
The Brogistter's have 33 acres of vines in various locations, sporting a range of varietals, from Pinot Noir to Reisling (the latter of which is one of their signature drops from the Mosel region, and is pretty delish!). Employing the expert winemakers, Elmas Sermann and Markus Hallerback, the Brogsitter group produce around 190,000 bottles of wine a year, I haven't tried them all, but with over 410 years of experience I'm tipping that they've got the whole oenology caper down pat. Cheers!
---
This category is empty! Please try another category or use our search function to find what you are looking for. If you require further assistance please contact us.